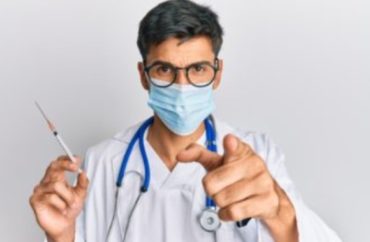 Student questions why older adults would not be mandated but younger students are required to get the vaccine
Student activists at Montclair State University have asked their university to reverse its COVID-19 vaccine mandate.
The mandate currently only applies to students and does not apply to faculty and staff at the public university in New Jersey.
"Making the vaccine mandatory for students in order to obtain an education that we pay for is absurd," student Susan Wojcik said in her Change.org petition.
The petition has over 2,000 signers as of June 10.
"We have the fundamental right to make our OWN decisions concerning medical procedures," Wojcik said. "[T]he university should have no say whether we get an experimental vaccine that is only allowed to be distributed because it has emergency authorization."
Students who are enrolled in completely remote online degree programs will not be required to get the vaccine. In addition, students who qualify under state law for medical or religious exemptions will not be forced to become vaccinated.
Wojcik has not responded to a Facebook message sent two weeks ago from The College Fix, asking if she planned to seek a medical or religious exemption and if she had considered taking legal action.
She told the student newspaper The Montclarion that COVID is more dangerous for older people, like faculty and staff, than it is for younger people, like students.
"Our professors and our staff [are] much older than us and more at risk for COVID-19 than we are, so I don't understand why they [don't have to] take it but we do," Wojcik said.
The university said it did not mandate the vaccine for staff and faculty because it does not believe it has the legal ability to do so.
"After careful analysis, the University has concluded this is allowed under both federal and state law. Montclair State joins Rutgers, Princeton and many other leading universities in requiring vaccination for students returning in the fall," Andrew Mees, a university spokesperson told The Fix via email.
"At this time, the University believes it cannot require employees to get vaccinated," Mees said. "However, we continue to strongly urge every faculty and staff member to do so, and a large number of our employees have already done so."
Public health Professor Stephanie Silvera told the campus paper that students should get vaccinated because it may "potentially" mean that they could take their masks off in the classroom.
She said that "being vaccinated not only means you can be in the classroom, but you could potentially be in the classroom without a mask on."
She did not respond to two emails from The Fix in the past several weeks that asked her if she supported a vaccine mandate for faculty and staff too and if she thought there should be any exemptions.
An Indiana University study found that in-person classes were not a significant spreader of COVID.
MORE: Governor Cuomo exempts faculty and staff from public university vaccine mandate
IMAGE: Krakenimages.com/Shutterstock.com
Like The College Fix on Facebook / Follow us on Twitter