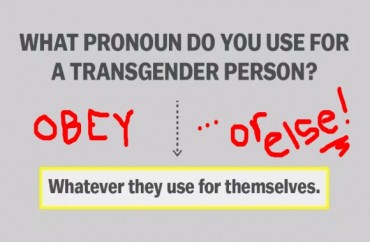 A professor at Vassar College is under fire for not using transgender students' preferred pronouns.
Professor Denise Walen's interim appointment as leader of the campus women's center was met with steep criticism from transgender students and their allies who allege she did not create a "safe" classroom because she would not use preferred gender pronouns.
A cadre of pro-LGBTQ campus groups have penned an open letter calling on Walen to be replaced.
"The appointment of Denise A. Walen to the position of Faculty Fellow was done without student input, particularly the input of transgender students. Had such input been sought, those students would have told of the repeated misgendering and disrespect experienced in Professor Walen's classes," the letter states.
"These incidents were not simply the result of ignorance on Professor Walen's part: they persisted even after her having been corrected multiple times and spoken with about them," it adds. "Professor Walen has demonstrated a complete disregard of basic human respect towards trans people. She cannot foster the environment of inclusion and support for which the LGBTQ and Women's Centers stand if she does not personally extend those things in her classes."
The Miscellany News reports additional details:
One student, M McKee '17, was dismayed by the announcement of Walen's appointment. Re­flecting on the two courses they took with Walen, they wrote in an emailed statement, "I (along with at least two other trans drama majors) was dis­turbed when I heard Professor Walen had been appointed to this position…Throughout the whole semester, she used the wrong pronouns for me, even when corrected by other students." …

They explained an especially excruciating moment during which Walen led a discussion of McKee's performance as a female character in a play. In their eyes, Walen's words became invalidating when she emphasized her opinion that the play's production "boldly put a male body in a dress" despite the fact that McKee had openly explained that they did not identify as male. As McKee re­called, "Her comments struck me as deeply trans­misogynistic, and I reached a point where I felt neither respected nor safe in her classroom."
RELATED: Men's Rights Advocate Outs Wacky Vassar College Freshman Orientation On Reddit
The blog Legal Insurrection points out there is a special irony about this protest:
Prof. Walen seems like an unlikely candidate for scorn. Obviously, she was selected by the administration to be a faculty fellow because she checked all the right social justice boxes.

…[But] no matter how progressive or politically correct, [left-liberal professors] are one microaggression or hypersensitive grievance away from being on the receiving end of social justice war. …Because at Vassar, the social justice warriors are eating their own.
As the old saying goes, what goes around comes around.
RELATED: Vassar students sell T-shirts praising terrorist to raise money for 'Palestinian resistance'
RELATED: Vassar official shreds the Constitution — literally — due to its 'triggering' nature
Like The College Fix on Facebook / Follow us on Twitter