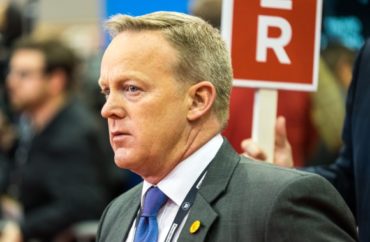 Teach-in offered as alternative event, protest of talk planned
Former White House Press Secretary Sean Spicer is scheduled to speak at Northeastern Illinois University today, a visit that is prompting outrage as students say they feel unsafe, and both students and faculty organize a protest and host an alternative teach in.
Spicer, who served under President Donald Trump, is set to speak about about the upcoming presidential election alongside former chair of the Democratic National Committee, Donna Brazile, for the "Politics, Press, and the Presidential Election" panel.
Members of a Facebook group called "Rally to Stop Sean Spicer at NEIU" plan to hold a protest to show public opposition to the former press secretary's presence. They describe themselves as a coalition of students, faculty, staff and alumni.
"NEIU should not provide a home for white nationalism and other forms of bigotry," the group states. "As members of racial, ethnic, and religious minorities, as queer people, trans and non-binary people, and women, as undocumented students, and as allies to all of these oppressed groups, we wish to explicitly express our fear in the face of the escalating right-wing violence in this country and around the world. We see the policies and rhetoric of the Trump administration—including the role Spicer took early in this administration—as drivers of this violence."
Late last month, the Student Government Association hosted a town hall where reportedly 30 students, faculty and others issued their grievances with Spicer speaking on campus.
The campus newspaper the Northeastern Independent reports that during the event, student Isaac Krantz-Perlman was the first to speak up about the "underlying fear felt by other students in the room."
"I'm Jewish, I see a lot of people in the space who are targets, not just of Trump, but of the rising white supremacist violence that's happening in our country right now. That makes me really scared," he said.
"You give these people who push violent policies like concentration camps, like a border wall, like a Muslim ban, coverage," he added. "And when you give these people coverage, on any platform, large or small, I think that encourages violence and helps make their ability to grow that much better."
And an undocumented student by the name of Gabriela Loredo questioned why the university would invite someone that would "attack" her in her "safe space."
Meanwhile, Brett Stockdill, a professor of sociology at Northeastern Illinois, told the Chicago Tribune he was "horrified" when he learned Spicer was set to speak on campus, and that his peers had the same reaction.
But demands for university President Gloria Gibson to disinvite Spicer were rejected.
With that, an alternative teach in was hosted Wednesday by the Student Government Association and the Academic Affairs and Student Affairs departments.
"The intention of this discussion was not to compete with the Spicer/Brazile lecture, but rather to inform and equip students with a balance of empathy and information regarding the speakers and NEIU as a cohesive student body before the lecture took place," the Independent reports.
Nancy Matthews, a professor of social justice and gender studies, stated the event's aim was to give the aggrieved among the campus community a chance to speak out, the newspaper reported. A follow-up event is slated for Sept. 17, the Independent reports.
University spokesperson Michael Hines, the campus police department, and Spicer could not be reached Tuesday and Wednesday for comment by The College Fix.
Previous speakers that NEIU has hosted include Rev. Jesse Jackson and scholar Cornel West.
Northeastern Illinois University is paying $50,000 in speaking fees to Spicer and Brazile for their talk, WBEZ reports, adding a wealthy alumnus is funding the event and no taxpayer money will be used.
Daniel L. Goodwin, the namesake of the Daniel L. Goodwin Distinguished Lecture Series for which the two are speaking, wrote an op-ed published in the Chicago Tribune praising the school for not caving to the demands to disinvite Spicer.
"For the past few years, I've made donations to cover the costs of speaking fees for visiting lecturers. As part of the lecturer series, other guests have included Mary Matalin and James Carville, Bob Woodward and Carl Bernstein, Terry Savage, Erin Brockovich and Jackie Joyner-Kersee. No university funds are involved," Goodwin wrote.
"As a proponent of higher education and learning, I believe encouraging an atmosphere that creates a free exchange of ideas from a variety of individuals with differing backgrounds and divergent viewpoints is critical to a student's learning experience — even if not everyone is comfortable with that."
MORE: U.S. Army War College disinvites speaker critical of Islam
IMAGE: Stock World Photo / Shutterstock
Like The College Fix on Facebook / Follow us on Twitter