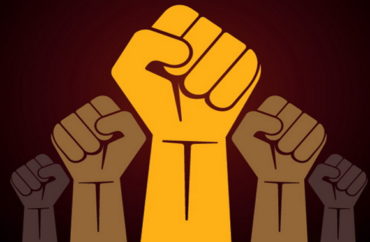 UPDATED: Yang has been reinstated
Students at the University of Wisconsin Madison protested the suspension of a dormitory employee who had told residents not to bring "too many white students around."
Chuefeng Yang, who works for the Multicultural Learning Center at Witte Residence Hall, told a local NBC affiliate he did make that comment, adding "It's not to say white students are not allowed here. But it's just to say, 'Let's make sure we're protecting the intentionality of this space.'"
Yang was put on paid leave while the university considers "the appropriate responses."
According to The Badger Herald, Yang's supporters took to the University Housing office on Monday with placards stating "UW Exploits Its Staff of Color" and "We Don't Need Your Fake Ally Ship," and demanded Yang "to be treated fairly." They also alleged the university doesn't want minority students "to feel like [their] bodies or [their] feelings matter."
Yang, they said, had provided a safe space for students of color.
As might be expected, the activists also put forth several demands … which they read aloud to Director of Housing Operations Jeff Novak:
–Acknowledge that Chuefeng Yang had to work 20+ hours a week due to the MLC's lack of coordinator.
–Backpay Chuefeng Yang those extra hours they worked and kept track of.
–A formal apology to the residents of MLC and others affected for prioritizing white feelings over POC safety.
–For UW to delegate more resources to MLC to support students of color.
According to The Daily Cardinal, protest organizer Karissa Smaglick said Yang's suspension was the "final straw" in a "long history of negligence" by UW.
"In terms of the students of color and MLC residents, this is kind of like our tipping point in terms of [the university] denying us resources and continuing to limit our access to people we can depend on," Smaglick said.
Freshman Juliet Chang added Yang is the "largest reason" she and others feel safe on campus. "That is underappreciated and undervalued," she said.
UPDATE: According to a report by WORT radio, Yang actually was reinstated "about an hour before yesterday's protest." WORT Interim Assistant News Director Shaun Soman told The College Fix Yang confirmed this with the station via phone conversation, as did UW spokesperson Meredith McGlone via email.
Read the Badger Herald and Daily Cardinal articles.
MORE: Dorm employee: 'Don't bring too many white students around'
IMAGE: Vector Art / Shutterstock.com
Like The College Fix on Facebook / Follow us on Twitter