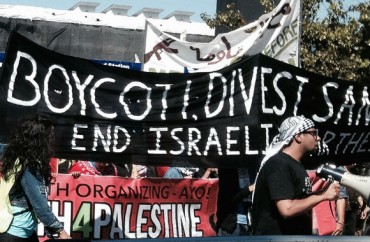 Boycott, divestment and sanction proponents had two setbacks late last week at major public universities.
In mass-turnout votes at the University of Illinois at Urbana-Champaign and Ohio State University, students rejected anti-Israel divestment resolutions put forth by their student governments.
The margin was stronger at UIUC, where 56 percent of nearly 6,400 voting students rejected language that would ask the board of trustees to divest from companies that "actively normalize, engage in, or fund recognized human rights violations of marginalized groups worldwide." (Oddly, the vote totals aren't included in the report by campus newspaper The Daily Illini.)
The Lantern reports that OSU's divestment resolution failed by less than 250 votes, and there's a likely reason for such a close tally:
Those on the "No" campaign said they have raised concerns about the fairness of the vote to USG's Judicial Panel — namely that the link in the online ballot portal for more information on Issue 2 went to [pro-resolution advocate] OSU Divest's website, and that the voting form regarding Issue 2 didn't appear in full on smart phones during part of the voting period.
Anti-resolution group Protect OSU noted what some students saw if they voted by phone. According to pro-Israel national student group StandWithUs, the vote tally was 4,084 against and 3,841 in favor. (The Lantern did not report vote tallies, either.)
The Algemeiner reports that this was the third time in two years divestment failed at OSU:
Sponsored by the campus coalition OSU Divest: Buckeyes for Human Rights, it called on the USG to "cease and/or prohibit any investments in G4S, Caterpillar, CoreCivic, The GEO Group and Hewlett-Packard Enterprise until they are no longer engaged in the violation of human rights [of Palestinians] and other practices deemed unethical by the Buckeye community."
According to StandWithUs:
Anti-Israel activists at OSU cynically combined their destructive agenda with an unrelated campaign calling for divestment from private prisons, hoping to manipulate students into voting yes on the referendum. They did this despite vocal opposition from the Executive Director of the Student Alliance for Prison Reform, who strongly objected to having her cause linked with anti-Israel extremism.
Regarding the UIUC campaign, StandWithUs said:
Anti-Israel activists at UIUC cynically attempted to hide their true intentions by keeping the language of the referendum vague. However, their website made clear that their campaign was part of a larger effort to isolate and discriminate against Israel.
Read the Daily, Lantern and Algemeiner stories, and StandWithUs statements.
MORE: Israel's founding is 'occupation' in approved BDS resolution
Like The College Fix on Facebook / Follow us on Twitter
IMAGE: Alex Chis/Flickr