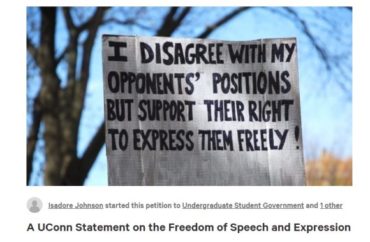 A group of politically moderate students have become targets for name-calling and threats for writing a pro-free speech "UConn Statement" and bringing it before the student government.
The statement reads in part that "Members of the University community are free to criticize and contest the views expressed on campus. … To this end, the University has a solemn responsibility not only to promote a lively and fearless freedom of debate and deliberation, but also to protect that freedom when others attempt to restrict it."
Its authors have been accused of white supremacy and one of them even received an ISIS beheading video.
After tempers flared within the student government over the effort, it was shelved during the spring semester, but the student authors said they plan to bring it forth again come fall semester.
"If not us, then who? We're the last hold," said co-author John Ross, a senior and one of the few conservative senators in UConn's student government. "This is going on nationwide. … It has to start with us."
Fellow co-author, economics and political science major Isadore Johnson, said bringing the statement to the student government illustrated just how opposed students are to free speech.
Johnson, a regional coordinator for Students For Liberty, said that while most of the campus is moderately left, there are activist wings that are "really left and exclusionary," and some have weaponized UConn's bias reporting system against people they labeled "dissidents."
Another co-author of the statement is UConn's student government President Michael Hernández.
After weeks of delay by UConn's student government, the statement was brought to a meeting during the spring and immediately the backlash began. Dozens of students heckled presenters.
"I didn't think it would be so intense, and that people would so viscerally see this as a threat," Johnson said. "This tempered my optimism."
Ross said the student government is a "very toxic" environment for anyone with conservative leanings: "You could feel the tension every time people talked to each other."
According to FIRE, the students' statement uses the "gold-standard free speech policy language from the Chicago Statement, the legislation simply serves to underscore the expressive rights UConn students and faculty already have."
In the days and weeks after the statement was introduced, some students lambasted and insulted the free-speech advocates, calling them racists and other vulgar names, they said. But they also continued to get more private support for the UConn Statement, they said.
"They hated the fact that we were getting signatures from students and faculty supporting what we were doing," Ross said.
In perhaps the most extreme online exchange, one of the authors of the statement was harassed by a UConn student and called a "cracker thats [sic] doing too much." The harasser followed up by sending a picture of an ISIS beheading video.
Ross explained how shocking the exchange felt.
"I've never seen something so disgusting and unnerving," he said. "We're in class with someone who feels this level of resentment and hate."
Johnson and Ross said the majority of the hate in the controversy has been directed toward UConn's student government president, Michael Hernández.
While Johnson is a moderate libertarian and Ross called himself a moderate conservative, Hernández rounds out the group as the only registered Democrat, describing his work with various Democrat causes in the state. Free speech, says Hernández, was a major part of his platform, but he was open about the problems it caused.
"Once we introduced the UConn Statement people started attacking us overnight and accusing us of racism," he said.
As an immigrant himself, Hernández said he was baffled by students calling him a white supremacist and "claiming that we were using free speech as an excuse to be hateful."
"Ironically," he said, "those were the same people sending us ISIS beheading videos and calling us racial slurs."
On August 30, Hernández, Johnson, Ross, and thousands of other students will return to UConn's campus.
While this controversy will likely continue for another semester, the student free speech activists say they refuse to back down.
Johnson described plans to bring First Amendment scholar Geoffrey Stone to campus to discuss concepts like the difference between hate speech and free speech.
While speaker events may mobilize UConn's conservative coalition, Hernández said he is keenly aware of the consequences of inaction on the free speech front: "If we do not act now then people will continue to weaponize free speech to shut down other people."
Hernández drew on his own personal story to explain his commitment to protecting free speech at the University of Connecticut.
"I am not perfect but I care about our rights. One of my family members ran for mayor of a city in Honduras and was killed during the campaign trail for opposing the political orthodoxy. In much of the world speech is not free. On the contrary, some people have to pay for it with their lives," he said.
MORE: Free speech group threatens legal action against college over denial of pro-liberty student club
IMAGE: Change.org screenshot
Like The College Fix on Facebook / Follow us on Twitter