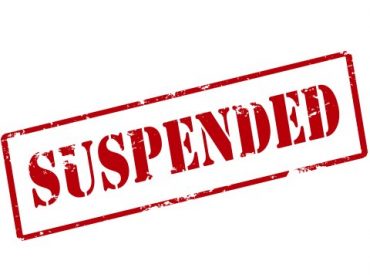 UPDATED
Several students involved in a large and aggressive protest against a pro-police speech at Claremont McKenna College in April that blocked the public from attending the talk have now been punished, the school announced Monday.
The throng had surrounded the building, forcing the speaker, "The War on Cops" author Heather Mac Donald, to give the talk via livestream to a near-empty room as demonstrators yelled "F*ck the police" and "Black Lives Matter" and banged on the venue's windows.
After reviewing video and photos of the blockade, the college has punished seven students: Three received one-year suspensions, two received one-semester suspensions, and two were put on conduct probation, the college's announcement said.
Officials also issued provisional suspensions of on-campus privileges to four non-students who appear to have played significant roles in the blockade, according to the statement.
"On the evening of April 6, a group of approximately 170 individuals from the Claremont Colleges and others outside our community organized, led, and executed a blockade of the Athenaeum and the Kravis Center. They breached the perimeter safety and security fence and campus safety line, and established human barriers to entrances and exits. These actions deprived many of the opportunity to gather, hear the speaker, and engage with questions and comments," according to the statement.
"… Sanctions were based on the nature and degree of leadership in the blockade, the acknowledgment and acceptance of responsibility, and other factors."
The school called the demonstration a breach of the school's institutional values of freedom of expression and assembly, and added it "created unsafe conditions in disregard of state law."
Claremont McKenna is part of the Claremont Colleges, a consortium of five elite private universities in Southern California, the others being: Pomona, Scripps, Harvey Mudd and Pitzer colleges.
The statement put out by Claremont McKenna notes that its administrators have asked each campus to complete their own misconduct reviews.
"Our students must master the skills of respectful dialogue across all barriers. Our community must protect the right to learn from others, especially those with whom we strongly disagree. And Claremont McKenna College must take every step necessary to uphold these vital commitments," the statement said.
Mac Donald, in an email Monday to The College Fix, responded to the news with this statement:
I am confident that Claremont McKenna College conducted its Student Conduct Process in good faith and with a determination to uphold the principle of open and reasoned discourse.

Nevertheless, while the outcome of CMC's process is—admirably—more transparent than the disciplinary process at Middlebury College following the Charles Murray violence, it would be useful to know why the number of students subjected to that process was so small: less than 5% of the blockade group.

To be sure, some portion of those blockaders were not CMC students. Did CMC determine that the other CMC students were not responsible for the blockade, or did they simply lack sufficient evidence to charge them? Still, in this era of spineless administrators, it is salutary that five students received actual suspensions—three for one year, another two for one semester—which is more punishment than has been reported at other schools experiencing similar outbreaks of student totalitarianism. CMC is to be congratulated on following through on its promise to hold at least some students responsible.

CMC announces that in the aftermath of the April 6 blockade, its faculty "must help us understand how to mitigate the forces that divide [our] society." As long as CMC remains complicit in the ludicrous conceit that its minority students are oppressed and in need of a safe space, it will contribute to social divisions, rather than mitigating them. When CMC students demanded the ouster of Dean Mary Spellman in 2015 for allegedly contributing to CMC's unsafe environment for minority students, President Chodosh did not rebut the charge that minority students were the victims of microaggressions and other forms of racism. Instead CMC created the CARE center. I asked President Chodosh if he has ever defended his faculty against the implicit charge that they treat minority students with anything other than full respect. He has yet to respond.

As long as the ideology of racial victimology dominates American higher education and finds outposts even in institutions as traditionally committed to apoliticized learning as Claremont McKenna College, student demands to silence points of view that challenge that ideology will remain all pervasive and in many cases triumphant.
Editor's note: The post was updated to include a statement from Mac Donald.
MORE: Students who helped shut down 'War on Cops' speech may face suspension, expulsion
Like The College Fix on Facebook / Follow us on Twitter