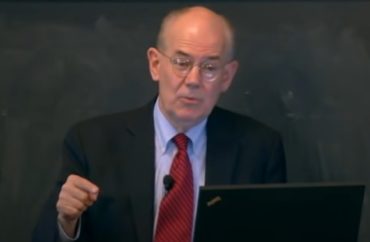 He accurately called the 2014 violent removal of the president a coup
Students at the University of Chicago are not happy with Professor John Mearsheimer – and they want the school to "remedy" the "problem" of his comments.
Professor Mearsheimer, known for his work on the realist approach to national security issues, has argued that problems in Ukraine are the fault of the West.
He gave a speech in 2015 that called the violent 2014 removal of President Viktor Yanukovych a "coup." He also referred to fighting between two groups of Ukranians in the Donbas region a "civil war."
The same views were described in a 2014 Foreign Affairs article he wrote.
He has also continues to hold these positions to this day. Mearsheimer's stance is not pro-Putin, but instead he argues the United States has used Ukraine as a pawn and given it false hope that it could compete with Russia.
That's not how a handful of students see it.
The letter (below) to President Paul Alivasatos implores him to take up their fight to "identify and condemn those who are actively engaged in the spread of Putinism."
University of Chicago students circulating a letter calling for the cancellation of John Mearsheimer over "Putinism," "anti-Ukrainian ideology," and spreading Russian disinformation like that there was a coup in 2014 and it included fascists. pic.twitter.com/HlI8qEOMgo

— Richard Hanania (@RichardHanania) March 5, 2022
The students, Daryna Safarian, Edita Kuberka, Iryna Irkliyenko, Darya Kolesnichenko and Sergiy Kuchko, were "pained" to find out that Mearsheimer had referred to in-fighting between Ukrainians as a "civil war." They took issue with his labeling of the 2014 removal of Yanukovych as a "coup."
Mearsheimer's actions did not just hurt the students – they were "detrimental" to the country. His statements were "not substantiated by any meaningful historical or scholarly evidence," the students alleged.
They demanded he disclose any funds he has received from Russia and a clear statement on his beliefs on "Russian aggression in Ukraine." It also wants the university to condemn Mearsheimer's statements by extension, through a public announcement that clarifies the university "does not condone[s] anti-Ukrainian ideology on campus."
Their "suggestions would remedy a problem," the students claim.
MORE: 74% of professors targeted for speech end up punished
IMAGE: University of Chicago/YouTube
Like The College Fix on Facebook / Follow us on Twitter