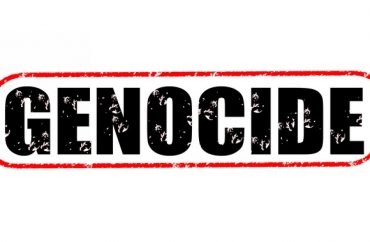 UPDATED
UMass Boston hosts parade of progressive academics for three-day teach in
BOSTON — A room full of college students recently attending a panel on Native American issues at UMass Boston were told they are "genocide beneficiaries."
The panel, "Indigenous Commemorative Practices and Community-Building Initiatives in Native New England and Beyond," offered an overarching focus on "indigenous resiliency," according to organizers.
One presenter, Kristen Wyman, identified herself as half-indigenous and half-European to the audience, and posed the question to the 50 or so students and others in the room: "How can we define systemic oppression?"
After the audience did not offer a cohesive response, she described the term as one group hindering another group's accessibility to opportunities and resources. This can take many forms, she said.
As an example, she explained that the erection of early dams by European settlers in Massachusetts rivers served as a "system of oppression" for Native Americans, since the construction of the dams hindered natives from canoe travel.
Wyman went on to discuss further her own identity, saying "my father is European" and that "I'm a colonizer and settler in that respect." She later noted that she recognizes her own "colonizer privilege" in this country in spite of her indigenous identity.
She added everyone in the room is a part of a national collective as U.S. citizens, which she noted is compiled of "genocide beneficiaries."
Wyman also compared the colonial-era phenomenon of native people converting to Christianity as a condition of "Stockholm syndrome."
The indigenous panel was one of nearly 20 that made up what appears to be a now annual showcase at UMass Boston — a three-day teach-in that gives a parade of progressive scholars and other leftwing activists a platform for their ideas. This year's event was titled "Unbought, Unbossed, Unbroken: Resisting Systemic Oppression Teach-In."
Other panels hosted during last week's teach-in were "White Supremacy at the Ballot Box," "Sex and Gender: Deconstructing Categories" and "BDS and Palestinian Liberation."
The BDS event was co-hosted by UMB political science and women and sexuality studies Professor Heike Schotten — who teaches a class called "Queer Political Theory" at the public university. She is also the author of the books Queer Terror and Nietzsche's Revolution: Décadence, Politics, and Sexuality — in which she argues that a re-reading of Nietzche's philosophy can serve as an "unlikely intellectual forebear of queer theory," according to her UMB profile.
Another panel during the teach in was "The Fight for Free College!" It was sparsely attended despite a statistic that over 60 percent of Americans back tuition-free college.
Hosted by the non-profit PHENOM, or Public Higher Education Network of Massachusetts, the person leading the panel, Sydney Little, PHENOM's organizing director, called on the Massachusetts legislature to provide free public higher education to anyone in the Commonwealth who seeks it.
She was also critical of the up-tick in both tuition and the associated costs that come with attending university, such as parking fees and student fee hikes.
Since the state Congress has cut higher education investments by 31 percent percent since 2001, public colleges and universities in Massachusetts have increased tuition 105 percent since 2002, she said.
Considering this, the speaker put forth the notion that since these state schools are receiving less funding from the mainly Democratic state legislature, public universities are holding students responsible for filling the gap.
The PHENOM presentation also provided an interesting statistic about student debt in Massachusetts. The average debt for a student attending a private institution is only approximately $2,000 more than a student who attends a public college or university in the state.
When the 2020 presidential election came up, the PHENOM staff member noted that as a nonprofit organization, she could not endorse any political candidates.
Still, the PHENOM student organizer at UMB that she supports "anyone but Trump," but Little added that this person was speaking as a "community member" and not a "PHENOM staffer."
At the end of the presentation, while asking the small audience to volunteer for the nonprofit, she said volunteers have met presidential candidate and Massachusetts Senator Elizabeth Warren.
Another panel was called "Strategies for Resisting Racism."
In contrast to the free college presentation, there was not an empty chair in the alumni lounge where the teach-in took place.
UMB Professor in Psychology & Critical Ethnic and Community Studies Karen Suyemoto hosted this teach-in. Suyemoto was recognized by the Obama administration for her work in "consultation and training on anti-racist therapy and education" as one of the White House's "Champions of Change."
She offered an anecdote of a friend of hers in academia who was an African American male, and got himself into trouble with the police for violently responding to the n-word. Due to his criminal record, this person, she said, was "prevented from academic and career opportunities" due to multiple run-ins with police.
From here, the professor said that while responding violently to racist rhetoric may seem like the best possible option, that is not always the case — as there are negative ramifications that can come with it.
One attendee who identified as "Latinx" addressed one question that she suggested has racist underpinnings. That question is: "Where are you from?"
The person said that this is a "racist and oppressive question to ask someone," and that it should be avoided in conversation.
The finale of the teach-in was "Surveillance and Policing of Muslim Students," and was hosted by the Muslim Justice League. Just over a dozen people showed up.
The speaker, Jarib Rahman, accused the Department of Homeland Security of internally possessing "structural, institutional Islamophobia," which he said is reflected in its programs that aim to combat the spreading of radical Islamic extremism in the United States.
An attendee in the audience commented that "far right, Christian extremism" is more prevalent in this country, but did not offer any supporting statistics or evidence to back up this claim.
In response, Rahman noted presidential candidate Pete Buttigieg's idea to create a federal agency that aims to combat white terrorism.
The Trump administration was not spared either, as Rahman remarked that Trump's "Muslim Ban" is inherently "Islamophobic."
CORRECTION: A previous version of this article listed the incorrect name for the person who presented at the Native American panel. We have corrected the name. 
MORE: UMass Boston teaches class with goal of denaturalizing heterosexuality
Like The College Fix on Facebook / Follow us on Twitter