An advanced political theory course at the University of Massachusetts, Boston seeks to denaturalize heterosexuality from a "gay affirmative" perspective, according to a description of the course.
The political science course, "Queer Political Theory," says that its "primary aims are the de-naturalization of (hetero)sexuality and (hetero)normative gender categories, identities, and expression," according to an online description of the class.
Asking the question "what is queer politics" and "how, in what way, or to what degree is sexuality political," the course, which fulfills a mandatory diversity requirement at the college, focuses on the "emergence of Queer Theory in the 1990s, and important contemporary texts on queer and LBGT politics in the U.S." the description continues.
The class is expected to be offered again this spring at the public university.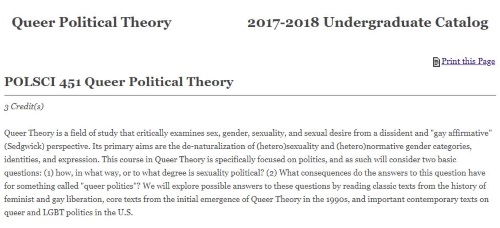 Associate Professor of Political Science C. Heike Schotten, who teaches the course, is the author of several publications in the field, including: Queer Terror: Life, Death, and Desire in the Settler Colony; To Exist is to Resist: Palestine and the Question of Queer Theory; Men, Masculinity, and Male Domination: Rethinking Feminist Analyses of Sex Work; Homonationalism: From Critique to Diagnosis, or, We Are All Homonational Now; and Nietzsche and Emancipatory Politics: Queer Theory as Anti-Morality.
In an email to The College Fix, Schotten declined to comment on the specifics of the Queer Political Theory course.
This class is one of ten different courses taught at the college specifically designed with a focus on queer theory.
Other classes include an English class called "Reading Sexualities: Queer Theory," which "offers a survey of queer criticism from foundational works in the field to exciting new directions that help us to identify queer forms of time, emotion, and literary expression," its description states.
And "Faith & Feminisms: Women, Gender, Sexuality & Religion in the U.S." is a religious studies course examining what it's like to have a feminist perspective in the three major world religions: Christianity, Islam and Judaism.
"The course also investigates contemporary queer theologies and current thinking about feminism, secularism, and humanism. Student experiences and questions help guide the study of feminist scholarly research and writing in the fields of history, theology," the description reads.
Other courses include "Queer Visual Culture: Sexuality Gender and Visual Representation," which explores visual representations of gender and sexuality; as well as "Psychology of Sexuality Orientation and Gender Identities," "American Independent Cinema" including "New Queer Cinema," and "Cinema, Sex and Censorship," a course with a focus on "tracing the history of the representation of sex and sexuality from early cinema and the vaudeville tradition to contemporary engagements with queerness, non-normative desires, and artificial intelligence," the descriptions read.
Editor's note: The author of this piece has been a student in Professor Schotten's class, but not the one reported on in this article.
MORE: Students can now minor in Queer Studies
IMAGE: Tero Vesalainen/Shutterstock
Like The College Fix on Facebook / Follow us on Twitter