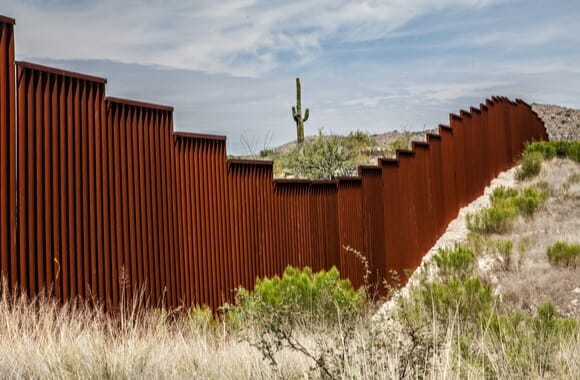 SAN DIEGO — A group of students stood and faced a dimly lit poster board in a darkened multipurpose room at San Diego State University on Tuesday evening.
The students, attending an immersive theatrical performance designed to fight "oppression," looked toward the board, peppered with pictures of people protesting illegal crossings at the U.S.-Mexico border.
"Nativism," a calm voice says aloud from somewhere in the darkness. "Prejudice or discrimination based on the idea of protecting the interests of established inhabitants against immigrants or those seen as not American enough."
Then things get more … intense.
"It is our inheritance, and it belongs to us," a loud, angry voice booms from somewhere in the room.
Next comes an audio recording of a female news anchor discussing children separated from their parents as a result of zero-tolerance border policies, followed by the sound of children crying.
Enter President Donald J. Trump, whose voice is next to echo loudly through the blackened room: "The United States will not be a migrant camp and it will not be a refugee holding facility."
It's followed by a female news anchor who can't even finish her segment due to emotion. "Trump administration officials have been sending babies and other young children," she starts, then peters out and doesn't finish as the sound of children cooing and crying and faint Spanish speaking can be heard in the background, along with the melody of sad music.
"I think I am going to have to hand this off, sorry," the anchorwoman says.
A performer walks in front of the poster board and looks at the student audience.
"But we're just protecting ourselves, right? We're just looking out for our people," he says. "You hear what they say on the news, they're dangerous."
The student audience is then quickly ushered into another dark room. As they enter, a man shouts and claps at them to "go, get in the box," even threatening to push them if they don't. When students silently don't budge, he acquiesces and proceeds to his speech.
"First they came for the blacks, but I'm not black, so I did not speak up. Then they came for the gays, but I'm not gay, so I did not speak up," he says. "Then they came for the Jews, but I'm not a Jew, so I did not speak up. Then they came for the crippled, but I'm not a cripple, so I did not speak up."
He concludes with: "When they came for me, there was no one to speak up."
The two theatrical vignettes were among about a dozen offered through San Diego State University's annual "Journey to a Shared Humanity" experience. It is described online by organizers as a way for students to "step outside their comfort zone and into the shoes of those who are struggling with oppressive circumstances."
According to a 2014 Facebook description of the annual workshop, "Journey strives to give people a way to experience oppression in a hands-on way. By engaging emotions of the participants, it allows for the accounts in the program to be truly effective."
Organizers acknowledge the annual event's "sensory experiences … may be disturbing," but adds "it is an effective tool used to teach people about how it really feels to be in oppressive situations."
This year's Journey offered vignettes that tackled fat shaming, judging people based on looks, gender stereotyping, antisemitism, ableism and more. In one skit, an overly aggressive Christian chastises her friend for not praying over her food before she eats, asking "were you born in a barn?" She then begs her friend to come to church. A voice then admonishes the audience that not everyone believes in the same things.
The skits that make up the performance are given in darkened rooms and often include voiceovers that offer students the moral of the story. Last year, and likely this year as well, some professors require students to attend one of the showings to earn class credit.
After the performance, students are led into a room to discuss what they saw and how they may be able to better fight oppression within the community. This year, Journey performances run throughout the day on Tuesday, Wednesday and Thursday of this week. Roughly 25 students are run through the performance every 20 minutes, according to a brochure.
"It is our sincere hope that by exposing students to the oppressive systems in society they'll take a look at how we all participate in these systems and hopefully commit to changing oppressive patterns and behaviors," Ray Savage, leadership coordinator for residential education and coordinator for Journey to a Shared Humanity, told SDSU's News Center in 2014.
SHOCK VIDEO: Students undergo 'disturbing…experiences' to drive out prejudice
Like The College Fix on Facebook / Follow us on Twitter