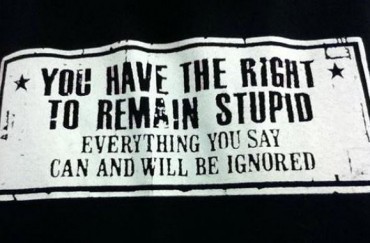 Just when you really thought the myriad college protests across the country couldn't get any more daft, something comes along to prove you wrong.
In this case, it's students at Lebanon Valley College in Annville, Pennsylvania. Demonstrators there recently insisted that school officials "remove or modify" the last name of one of the college's past presidents as it appears on a campus building – the man's name is Clyde A. Lynch – "due to the associated racial connotations."
This is not a joke.
The demand was made at a forum on campus equality issues held Friday, capping a week of demonstrations calling for changes at the predominantly white institution.

But while their remaining demands — those seeking everything from a more diverse curriculum to facilities recognizing varied gender identities and disabilities — appeared warmly received at Friday's forum, which was attended by Pennlive and a standing-room-only crowd of students and staff, a call to change the name of Lynch Memorial Hall has been decidedly more controversial, both at the school and beyond.

In the days that followed, commenters on pennlive.com leapt to defend Lynch, who served as the college's president from 1932 to 1950 when he died in office, saying he's been unfairly dragged into the fray by this modern-day movement.

In response, student activists who made the demand said they'd be willing to settle for adding his first name and middle initial to the building instead of removing it altogether. At Friday's forum they acknowledged no known links between Dr. Clyde A. Lynch and the practice of "Lynching" but said as is, the building and last name harken back to a period in American history when Blacks were widely and arbitrarily killed by public hangings and "Lynch Mobs."
President Lynch "led the college through the Great Depression and World War II, helping to raise $550,000 for a new physical education building which was named for him following his death," according to the college website.
Just a few hours after its first report, PennLive devoted a new article to the public backlash this idiocy has created.
Nevertheless, the most straight-to-the-obvious-point comment comes from the original article:
"Anyone with half a brain would know that the name has nothing to do with racial connotations. It's the last name of a very generous donor who probably helped fund many of these students."
h/t Paul Hair.
Like The College Fix on Facebook / Follow us on Twitter
IMAGE: Chisel Wright/Flickr