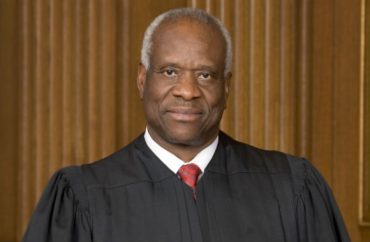 It seems some students at the Savannah College of Art and Design wanted to make a post-Brett Kavanaugh confirmation "#MeToo" statement, and it went back in time 27 years to do it.
Sage Lucero started a Change.org petition to remove Supreme Court Justice Clarence Thomas's name from the school's Center for Historic Preservation … because "a victim's trauma should outweigh politics."
In this case, the (alleged) trauma of Anita Hill.
"It's utterly disgraceful to me that I attended a school where a building was named after a sexual predator," Lucero says in the petition. "And not just any sexual predator, one who wrongfully won against a woman's word."
According to USA Today, the building was named after Savannah, Georgia native Thomas following its 2010 renovation.
The outraged Lucero admitted she didn't even know the building was named after Thomas until the Kavanaugh hearings.
Lucero said many comparisons can be drawn between Hill and Kavanaugh accuser Christine Blasey Ford, calling the two circumstances "extremely similar."

"For women like Dr. Ford, and Anita Hill to come forward and speak out about what happened to them is extremely traumatic," Lucero wrote. "For someone to not believe a victim who remembers sheer details such as laughter and has gone through therapy because of it is honestly disgraceful."

SCAD did not return multiple calls from USA TODAY, but said in a statement to WSAV last Friday that university officials are "aware of the petition and have reached out to the sponsor."

The petition comes after Harvard Law School students protested Kavanaugh's involvement with the school and called on him to drop his class there. More than 800 alumni signed a letter calling for Kavanaugh's status as a lecturer to be rescinded. Kavanaugh did withdraw from the class, but it's unclear if the student effort had anything to do with his decision.
Comments on the petition range from "There is no greater disservice to survivors of sexual assault than to continue honoring a sexual predator" to "[Thomas] is a lying sack of shit who doesn't belong on the Supreme Court in addition to his crony Kavanaugh."
Read the full article and petition.
MORE: Black prof says Clarence Thomas' votes roll back civil rights
MORE: Why Clarence Thomas hates Yale
Like The College Fix on Facebook / Follow us on Twitter