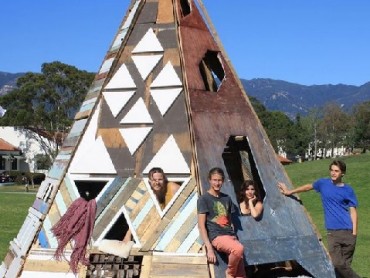 Professor defends piece's removal as 'civility, not censorship'
Students at Santa Barbara City College who built a large, colorful teepee for their art class have been denounced as offensive and ignorant by some students on campus, clamor that ultimately prompted the structure to be removed.
The students are enrolled in the school's "4-D Art, Time-Based Media" class, which "explores issues and practices of … interactive and chance-derived work, installation, performance, video, sound and digital media," according to the course description.
For an assignment, some of its students harnessed complicated architectural designs and intricate woodworking to create an artistic teepee, which they set up on one of the quad's grassy knolls earlier this month. As The Channels student newspaper reports, the four art students who built the teepee saw it as "a place of positive vibes and community engagement."
"The featured piece is a beautiful large scale wooden Tee Pee made of upcylced and reclaimed materiel from an old farm house," according to an online description of the structure. "The piece … provides a comfy, squishy environment for music, a tea lounge, a trade post, and good vibes and conversation. We want to provide you with an experience out of the mundane – right here on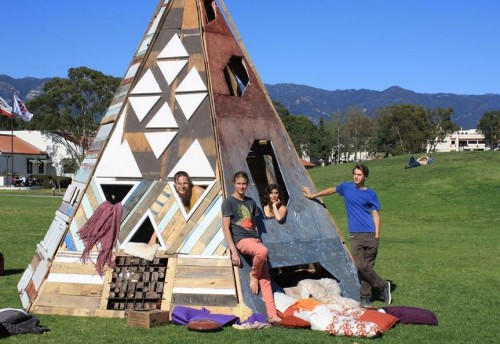 campus!"
A campus spokesman told Native News Online the teepee was even built with help from a licensed contractor, and was lined with pillows and rugs and included a shelf of blank books for people to express themselves in written word.
But the structure was denounced by some American Indian students, who said they viewed the teepee as offensive and culturally insensitive.
"I think it's very insensitive of the history that was done to Native Americans. I believe that SBCC faculty condones this type of behavior," an anonymous student told Native News Online. "We constantly have to live with disrespect. Since I was attending the 'number one community college' I would have the right to be free of stereotypes. This is an act of superiority for non-Native students and I will not and am not okay with it."
A Santa Barbara City College Facebook page posted a photo featuring the structure, and it earned a mix of both praise and condemnation. Some students initially wrote "amazing," "wow," and "love this," under the photo, but then the online conversation took a turn once word of the teepee spread.
"As a Native American, I'm appalled by the insensitiveness by this crude display," posted Angel Solorzano, whose Facebook page says he works at the school. "A Teepee is something that belongs to Native American heritage. I do not condone this as something artistic, but a mockery of my culture."
"I wish this could be considered an act of unintentional misunderstanding," posted Santa Barbara resident Eric Heras. "When you use stereotypes and dont consent from the people you are stealing culture from you are intentionally or unintentionally being disrespectful. Putting your own twist doesn't make it ok either."
People from other parts of the country also began to weigh in on Facebook. "More cultural appropriation because they can; white privilege strikes again," stated one post from a San Antonio resident. Said another: "What a disgusting and racist picture this is….and you call your self educated."
The teepee prompted a debate on campus, where one percent of the student population is American Indian, according to campus stats.
"Within faculty discourse, some called the removal of the teepee an act of censorship and a threat to artistic freedom. Others voiced concern for the lack of a safe space for marginalized students to convey their pain and anger," The Channels reports, which added that the art students ultimately decided to dismantle the teepee since it upset some people.
"That's civility, not censorship," Tina Foss, an American Ethnic Studies instructor at the city college, told The Channels.
In a statement to the student body, the student artists said "it is important to acknowledge there was never an intention to undermine a culture or group of people, let alone offend anyone."
College Fix reporter Aaron Bandler is a recent grad of Cal Poly San Luis Obispo. 
Like The College Fix on Facebook / Follow us on Twitter
IMAGE: Facebook screenshot