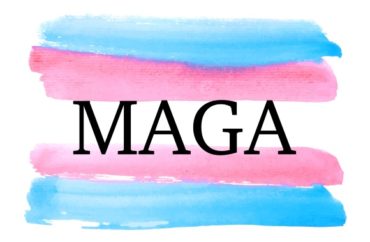 A couple years ago one of the most famous transgender women in the world, Caitlyn Jenner, shocked many observers when she spoke about voting for Donald Trump and identifying as a Republican. Turns out, that might not have been as far-fetched as it first seemed, even if she has since revoked her support of Trump.
A recently published large-scale study on LGBTQ political identities has produced some surprising results, finding transgender men and women tend to be "significantly less liberal" than cisgender men, straight men, and others in the LGBTQ community.
The study, "A Rainbow Wave? LGBTQ Liberal Political Perspectives During Trump's Presidency: an Exploration of Sexual, Gender, and Queer Identity Gaps," surveyed a nationally representative sample of U.S. adults. It was funded by the University of Oklahoma and conducted by Meredith Worthen, a sociology professor in OU's College of Arts and Sciences.
A trans man is someone who was born female but identifies as male. A trans woman is someone who was born male but identifies as female. And a cisgender person is someone who identifies as the sex they were born.
The study found that transgender individuals showed a decreased likelihood of supporting laws and policies associated with liberal causes.
"Thus, in comparison to all cis men [straight men] as well as all cis LGBTQ non-heterosexual men, trans men and women were significantly less liberal," the study states.
"Overall, these patterns demonstrate that trans men and women have a different relationship with liberalism than cis men and women do," the study states.
Professor Worthen notes in her study the results are "surprising" because other large-scale nationwide studies have found that 82 percent of transgender people identify with liberalism and a majority voted for Hillary Clinton in the 2016 election.
But she speculates in her study as to why her survey found what it did: "trans men and women may feel that their interests are not well represented by liberal perspectives and policies and as a result, they may not identify with liberal politics."
"… Overall, the relationships between trans identity and liberalism found in the current study largely go against the expected patterns … and demonstrate the need for continued efforts to understand these dynamics."
Worthen told The College Fix that Trump's presidency and the rise of the term "Rainbow Wave," which describes the large number of LGBTQ politicians elected in 2018, is what prompted her research.
"The Trump presidency created a very real need to understand voices of oppressed and marginalized groups, including LGBTQ people," Worthen said. "Alongside this, because media terms like 'Rainbow Wave' were so rampant during the last election, I felt it was important to investigate the accuracy of this term."
The study found that women tend to be more liberal than men, and bisexual people tended to be less liberal than lesbian and gays.
Worthen told The Fix why gender plays such a role in the political spectrum.
"Gender impacts our political perspectives because gender is a powerful set of experiences that shapes our everyday lives and attitudes," she said.
"I do think that the emerging groups of young people who are more likely than older generations to identify as LGBTQ have contributed to a shift in American politics today," Worthen said.
More study is needed, she added.
"This study has several measures of liberalism and the comparisons indicate that trans men and women may have different relationships to liberalism/liberal perspectives as compared to others," Worthen said. "This study also shows that we need to dedicate more research to better understanding trans men and women's political perspectives and motivations."
Editor's note: After publication, Professor Worthen contacted The College Fix to voice concern over the MAGA image used with the story, saying the photo is not representative of the study's findings and she does not approve of its use.
MORE: LGB vs. T: How the trans issue is dividing a movement
Like The College Fix on Facebook / Follow us on Twitter