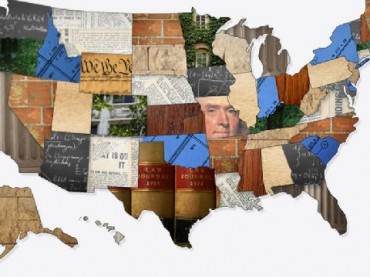 A study released Wednesday by the American Council of Trustees and Alumni titled "What Will They Learn?" reports students actually learn very little when it comes to vital subjects such as economics, literature and history.
The study of 1,098 colleges' and universities' graduation requirements found that just 18 percent of them require a basic American history course, only 38 percent mandate a literature course, and a paltry 3 percent require a basic economics class. Meanwhile, nearly every school the group looked at had some sort of "diversity requirement," the report found.
"One wonders what tuition and tax dollars are going toward when most colleges—even public ones—don't require basic economics, foreign language, American history or even literature," stated Dr. Michael Poliakoff, director of the What Will They Learn? project. "Are we really preparing our nation's next generation of leaders when our colleges are failing to ensure the most basic skills and knowledge?"
The study also noted that at the schools that actually do require classes such as history and literature, students are often allowed to fulfill these requirements with silly courses like "History of Rock & Roll" or "Horror Films and American Culture." Other examples include:
University of Colorado – Boulder: The "United States Context" requirement may be satisfied by … "Wops and Dons to Movers and Shakers: The Italian American Experience," "Music In American Culture," "America Through Baseball," and 41 other courses.

Elmira College: Students can fulfill the "United States Culture and Civilization" requirement with "Mental Illness in the Media" and "Leisure and Marketing in America."

Bates College: The many "General Education concentrations" may be satisfied by such courses as "History of Electronic Dance Music," "The Rhetoric of Alien Abduction," and "Decoding Disney: Race, Gender, and Sexuality in the Animated Blockbuster."

Linfield College: Students can fulfill either the "U.S. Pluralisms" or the "Individuals, Systems, and Society" requirement with "The Economics of Star Trek."

Richard Stockton College: Students can meet the "Historical Consciousness" requirement with "Vampires: History of the Undead.:

Harvard University: "American Dreams from Scarface to Easy Rider" could count for literature credit.
The study did find some schools that actually have respectable graduation requirements. Schools that received "A" grades from the group include Pepperdine, Baylor, Christopher Newport University, Clark Atlanta University, Morehouse College, Colorado Christian University, Kennesaw State, University of Texas – San Antonio, and the United States Coast Guard Academy.
As for the "Fs" – campuses such as the University of California – Berkeley, Bowdoin, Hamilton, and Kenyon made the list.
"That some of the best-known colleges earn poor marks for general education doesn't mean they don't do other things well," the report states. "But what is clear is that many highly regarded universities enroll some of our nation's top students and then give them nothing more than a 'do-it-yourself' curriculum. The famous Ivy League, for instance, is home to two 'Bs,' three 'Cs,' two 'Ds,' and one 'F.'"
"… Yale does not require its students to take a college-level math or a dedicated composition course … and Brown has an 'open curriculum,' meaning students may take whatever classes they wish, with no requirements at all."
The study doesn't just present the problem, however. The American Council of Trustees and Alumni also touts solutions, including calling on boards of trustees and faculty members to develop mandates to ensure students learn the essentials.
But it also advises students and parents to "vote with their wallets." To that end, they urge parents to compare curriculum requirements at the website WhatWillTheyLearn.com. The website details whether each school requires literature, U.S. government or history, foreign language, mathematics, economics, science and composition. The massive database allows users to shop around for the best schools when it comes to curriculum mandates, and also includes tuition costs and other statistical data on each campus.
The group contends it's a better measure than other college rankings systems that get so much attention each year.
"Our website does not rank schools, it rates them on objective academic criteria," the group states. "It grades each school based on the strength of its core curriculum. None of the major ranking systems provides an evaluation of what students are learning. While these rankings look at such issues as the institution's wealth, reputation, physical facilities, number of Ph.D.'s among the faculty, and alumni giving records, no system other than What Will They Learn? pays serious attention to the curriculum."
And in the end, ACTA argues, this matters – citing a 2011 Roper Public Affairs and Media firm survey which found "less than half of American adults believe today's college students are definitely or probably getting their money's worth from a college education at a public college or university" and "nearly six in ten American adults believe today's colleges and universities are doing only a fair or poor job of preparing graduates for their future careers."
Jennifer Kabbany is editor of The College Fix. (@JenniferKabbany)
Like The College Fix on Facebook / Follow us on Twitter
IMAGE: ACTA