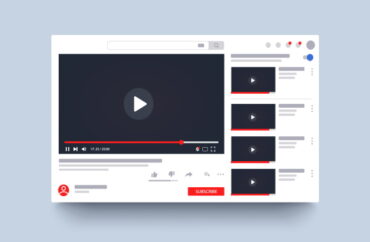 The YouTube algorithm for video suggestions contains a left-wing political bias that is present "even when the user does not have a watch history," according to a recent study.
The results "raise questions on whether the recommendation algorithms of social media platforms in general, and YouTube, in particular, should exhibit political biases, and the wide-reaching societal and political implications that such biases could entail," the study states.
Viewers who watch videos that are right-leaning are frequently recommended videos from creators with left-leaning content, but viewers who watch videos with a left-wing bent are rarely provided suggestions with right-leaning content, the study found.
The study also noted that "while the algorithm pulls users away from political extremes, this pull is asymmetric, with users being pulled away from Far Right content stronger than from Far Left."
Moreover, viewers by default are typically presented with left-leaning videos, and would need to search for right-leaning content, it found.
Talal Rahwan, an associate professor of computer science at NYU Abu Dhabi, told The College Fix the study controlled for multiple factors, including the number of views videos have in each category, as well as the propensity of each category to include videos perceived to contain misinformation.
"YouTube's left-leaning bias cannot be explained by the algorithm's aversion to misinformation and fake news content," he said via email.
The study categorized videos into six political classes: far-left, left, center, anti-woke, right, and far-right. Rahwan said he and his fellow researchers define the categories using a study called "Examining the consumption of radical content on YouTube."
The College Fix twice reached out to Google, which owns YouTube, in the past two weeks to ask how the company addresses concerns from content creators about political bias, if the YouTube algorithm contains a left-wing bias, and if there are any steps in place to review potential biases. Google has not responded.
YouTube has faced several controversies in the past about perceived left-wing bias, and even spawned a lawsuit.
In 2017, PragerU filed a lawsuit against YouTube alleging that its restriction of videos violated the First Amendment. The lawsuit has since been dismissed in a federal court because YouTube was not considered a "state actor" by the judges. PragerU declined to comment for this story.
It has also temporarily demonetized the YouTube channel of Matt Walsh, and restricted certain videos from PragerU.
Another controversy occurred when YouTube removed videos from Republican U.S. Sen. Ron Johnson of Wisconsin for spreading "COVID-19 disinformation."
The researchers found that YouTube's "recommendation algorithm's left-leaning tilt in the US political context offers questions on the nature of how an ideal recommendation algorithm should perform," the researchers argued.
They observed that "recommendation algorithms which only offer content similar to what is being watched by the user may create echo chambers."
Some alternatives were offered in the study, such as "recommendation algorithms that pull users symmetrically towards the center, or one that offers a uniform distribution of videos across the political aisle."
According to the Pew Research Center, 81 percent of U.S. adults use YouTube, while 25 percent of U.S. adults regularly get news on YouTube.
MORE: YouTube suspended ad for new 'pro-American education platform'
IMAGE: Art Pal / Shutterstock
Like The College Fix on Facebook / Follow us on Twitter