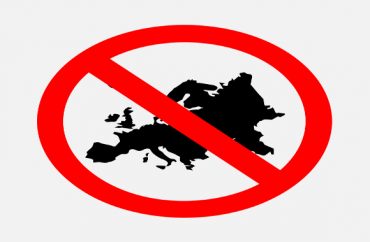 "Microaggression." "White privilege." Myriad "-isms." Even "sifting and winnowing." It seems academics churn out the politically correct edu-jargon with wanton abandon.
Not to be outdone, Ithaca College's Nia Nunn has come up with a quite … innovative title for one of her classes: "Eurobliviousness."
Nunn, along with fellow Ithaca prof Zillah Eisenstein and visual artist Nydia Blas, are facilitating discussions at the Southside Community Center's "Real Talk" series which "aims to dismantle racism in the Ithaca community."
According to Ithaca.com, "[e]ach talk is meant to empower people of color, call attention to present realities around marginalized groups and discuss solutions for how to combat overt and covert racism."
In essence, it's the same thing that's offered at many colleges and school districts, just under yet another colorful name.
Nunn's class, titled "Eurobliviousness," kicked off the series with a discussion on white privilege and racism 101. She mentioned that even though Ithaca prides itself on being a generally progressive and open-minded town, each person in the classroom was likely at a different stage of understanding and unpacking white privilege.

Tanvi Naidu, a student at Cornell University from India and attendee of "Eurobliviousness," touched on how little she knew about the black experience in Ithaca but also in America — especially as someone coming from India, which is often seen as racially homogenous.

"There was a lot of that research I could have done on my own," she said. "Learning about the black experience was very illuminating for me. Now I'm just hyper aware of how normalized the white experience is and how that's seen as the default."

And it's within this divide that Real Talk attempts to fill in the gaps of black education, where much of the divide stems from a lack of diversity in classrooms. Nunn said that many of her students do not get the "black experience" in their education, and that Nunn is their first teacher of color. Without discussions about race and without the presence of black educators at younger ages, the more likely racism becomes internalized when students grow up. Brenda Kuhn, an Ithaca resident and attendee of "Eurobliviousness," expressed this feeling of missing the black experience through her levels of comfort in the class.
No doubt being "hyper aware" about white racism and privilege is just what Nunn, et. al. want.
The instructors may want to consider examining their own biases seeing they view "black education" as some sort of monolithic concept (just like "white privilege").
According to their respective websites, Professor Nunn specializes in "Black girl empowerment ~ anti-racist feminist pedagogy," while Eisenstein's expertise consists of the "politics of class, sex, and race; political theory; feminist theories, and gender construction."
Artist Blas, according to this site, "delicately weaves stories of circumstance, power, and magic," and "uses her work to create a physical and allegorical space presented through a Black feminine lens."
MORE: Get ready, Kansas City: Here comes the National White Privilege Conference
MORE: Students wear white pins to remind them of white privilege
Like The College Fix on Facebook / Follow us on Twitter
IMAGE: Shutterstock