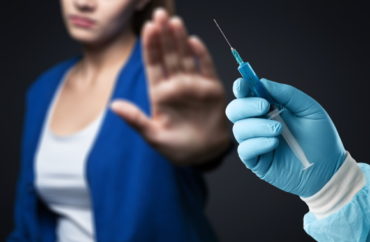 The U.S. Supreme Court on Thursday declined to overturn an Indiana University COVID vaccination mandate after eight students filed for an emergency appeal last week to stop the mandate.
The students had argued the vaccination mandate violates their constitutional right to "bodily integrity" under the 14th Amendment. ' According to their appeals, the students' refusal to be vaccinated is "based on legitimate concerns including underlying medical conditions, having natural antibodies, and the risks associated with the vaccine."
The students also said the mandate violated a state law banning "vaccine passports."
But Donald Trump-appointed Justice Amy Coney Barrett apparently disagreed, turning the appeal down without comment, as is customary with emergency motions. She acted by herself and without action by the full court, which court experts typically see as a sign that the appeal was of low legal merit.
In denying the students' appeal, the Supreme Court upheld a July 18, 2021 decision by the U.S. District Court for the Northern District of Indiana to uphold the mandate. In its decision, the 7th Circuit court relied on a 1905 Supreme Court precedent that allowed Massachusetts to impose penalties on individuals who refused to take smallpox vaccinations.
"People who do not want to be vaccinated may go elsewhere," said 7th Circuit Judge Frank Easterbrook said in the decision, which sided with a lower court ruling that also refused to block the mandate.
In arguing against the mandate, the students compared it to the U.S. government's Tuskegee study in which treatment was withheld from African Americans unknowingly infected with syphilis.
"IU's mandate does not provide for voluntary and informed consent to the taking of the vaccine, a fundamental tenet of medical ethics, which the Tuskegee Institute also failed," the lawsuit states.
But the 7th Circuit disagreed, saying each university "may decide what is necessary to keep other students safe in a congregate setting."
"Health exams and vaccinations against other diseases (measles, mumps, rubella, diphtheria, tetanus, pertussis, varicella, meningitis, influenza and more) are common requirements of higher education. Vaccination protects not only the vaccinated persons but also those who come in contact with them, and at a university close contact is inevitable," the court said.
"If conditions of higher education may include surrendering property and following instructions about what to read and write, it is hard to see a greater problem with medical conditions that help all students remain safe while learning," Easterbrook said. "A university will have trouble operating when each student fears everyone else may be spreading disease."
MORE: Indiana University sued by students over its vaccine requirement
IMAGE: Billion Photos/Shutterstock
Like The College Fix on Facebook / Follow us on Twitter