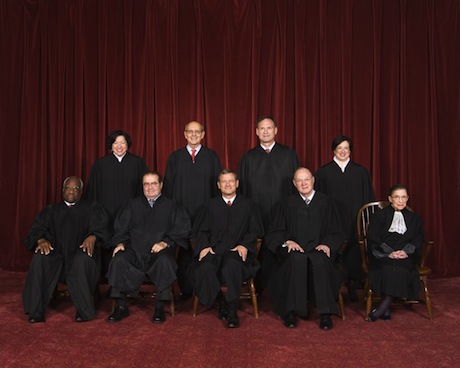 The Supreme Court avoided making a sweeping ruling on affirmative action in college admissions in the Fisher v. University of Texas decision handed down this morning. The result is being described as a partial victory for opponents of racial preferences, many of whom were hoping for a more comprehensive ruling from the high court, which instead sent the case back to a lower court for further review.
As Guy Benson reports for Townhall.com:
The US Supreme Court has declined to issue a sweeping ruling on race-based affirmative action, effectively side-stepping the core issue of one of the session's most anticipated decisions.  Instead of breaking new ground, seven justices remanded the Texas case back to the lower courts.  SCOTUS vacated the Fifth Circuit's decision, which wrongly dismissed a white woman's challenge against the University of Texas' admissions policies…
The Daily Mail reports some background on the case:
The case before the justices was brought by Abigail Fisher, a white suburban Houston student who asserted she was wrongly rejected by the University of Texas at Austin while minority students with similar grades and test scores were admitted.

In a 7 to 1 decision, with Justice Ginsburg as the lone dissenting voice, the court chose to throw out the lower court's upholding of decades-old law…
The Huffington Post labeled the decision "a provisional victory" for Abigail Fisher.
Justice Ruth Bader Ginsberg wrote the sole dissent in the case, writing that she would uphold the University of Texas's use of race as a factor in college admissions: "The University's admissions policy flexibly considers race only as a 'factor of a factor of a factor of a factor' in the calculus."
Justice Clarence Thomas, however, wrote in a separate opinion that the court should have taken the opportunity to make a more sweeping ruling: "I write separately to explain that I would overrule Grutter v. Bollinger, and hold that a State's use of race in higher education admissions decisions is categorically prohibited by the Equal Protection Clause."
For now, the ultimate fate of racial preferences in college admissions remains unsettled. It seems certain that we can expect to see this issue come up before the high court again in the near future.
Jennifer Gratz, a well-known civil rights activist and CEO of the XIV Foundation, commented on the decision in a press release this morning: "The Court once again confirmed that universities must be moving to end these policies and that they must first attempt to achieve diversity through race-neutral means. Since the University of Texas had shown they could achieve diversity through race-neutral means when adjusting to the Hopwood decision in the 1990s, they should not reintroduce race preferences."
Nathan Harden is editor of The College Fix and author of the book SEX & GOD AT YALE: Porn, Political Correctness, and a Good Education Gone Bad.
Like The College Fix on Facebook.  / Follow Nathan on Twitter @NathanHarden