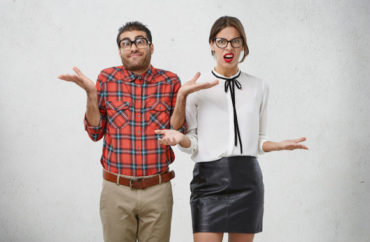 UPDATED
First on their 'long-term' demand list following possible hoax
Diversity and inclusion isn't going so well at Syracuse University.
In response to anti-black and anti-Asian graffiti found in a bathroom and bulletin board in a campus dorm last week, students are holding a sit-in and making several demands of the administration, according to The Daily Orange.
One of those demands: the ability to deny roommates based on their race.
It shows up as No. 6 on a poster in the Arch building where the sit-in is taking place, as documented by Daily staffer Casey Darnell, and No. 1 on the protester's "long-term" demand list: "Agree to offer a 'Same Race' option for roommate selection on the housing application for all students."
The group has been in The Arch lobby since around 10:30 a.m. They expect to be here until the center closes at 1 a.m. Their demands are also posted on the walls. pic.twitter.com/mkSzvsDRuf

— Casey Darnell (@caseydarnell_) November 13, 2019
Other long-term demands: hiring more counseling to "represent all marginalized identities" (not defined), "a building for multicultural offices, organizations and programs," and $1 million for a "unified, required" curriculum on "anti-racism" and other diversity issues.
Short-term demands include the expulsion of anyone involved with the graffiti, twice-annual forums at Board of Trustees meetings for students to "share their experiences and express their expectations" of Syracuse, and "reform" of the first-year curriculum known as SEM 100 "to accurately address diversity issues in the 21st century."
They also want "mandatory diversity training" written into new faculty and staff contracts in the short term, with "encouraged" attendance by current faculty, and a "zero tolerance policy for hate speech" written into the current anti-harassment policy, with explicit sanctions given. They are offered by a group that dubbed itself #NotAgainSU.
Unsurprisingly, the activists refuse to deal with media they don't control.
MORE: Judge lets Syracuse ignore free speech promises to students for satirical skits
Kai Wright, an SU sophomore, told students at the sit-in not to speak with media outlets. "We want to control this narrative" #NotAgainSU

— Casey Darnell (@caseydarnell_) November 13, 2019
Chancellor Kent Syverud answered the demands in a campuswide email Wednesday late afternoon.
He called the demand list "thoughtful and constructive" and said he has requested "immediate action" on several issues.
Syverud wants a "prompt implementation of a new protocol" for bias incident response that "simultaneously" cares for the students "directly impacted," communicates "timely" with the community and "swiftly" investigates the incident. Chief Diversity and Inclusion Officer Keith Alford and Department of Public Safety Chief Bobby Maldonado will "finalize this approach by next week."
Syverud has also tasked Dean of Students Marianne Huger Thomson with working with student leaders on possible revisions to the Code of Student Conduct, with an eye on "bias-related incidents," he wrote.
Chancellor Kent Syverud sent an email to the campus. SU will review how it handles bias incidents and potential changes to the Code of Student Conduct, he said. pic.twitter.com/I51fSqF3Ty

— Casey Darnell (@caseydarnell_) November 13, 2019
10 years in prison for slurs the newspaper hasn't fully described?
Syracuse was slow to notify the entire campus of the incidents and Syverud was out of town when they happened, leading to anger from some students who claim the university has a pattern of indifference to racist incidents. That's despite the university's draconian punishment of students for making offensive comments even privately and in a satirical context.
The university may go even further if it manages to identify a suspect. Following a dorm meeting with two Department of Public Safety officers, resident advisors and a residence director, "several students" told the Daily that one of the officers said the culprit "would" be expelled and could face "up to 10 years in prison."
The investigation is getting help from the state, according to the Daily. Syracuse police and public safety, the county district attorney and the State Police Hate Crime Task Force are all involved.
Yet the content of the graffiti has also not been reported fully. The Daily said "the N-word" was written in the bathroom but has not specified the "slur against Asian people" on the bulletin board. Even so, its reports on the incidents and their aftermath have included content warnings.
It's not clear whether the incidents can be investigated to the extent that anyone can be identified and punished, either for authentic racial slurs or for a hoax designed to boost the demands of activists.
A trio of students at the State University of New York-Albany, about two hours away, were prosecuted for reporting a fake hate crime on a bus three years ago. Video surveillance and a 911 call showed they were the instigators of the incident.
#NotAgainSU said it will call on Syverud and Alford to resign if their demands are not met by Nov. 20.
A student is putting up signs with #NotAgainSU on the entrance to the Barnes Center pic.twitter.com/jGzoT5mFSV

— Casey Darnell (@caseydarnell_) November 13, 2019
Dolan Evanovich, senior vice president for the "student experience," told the Daily in its Wednesday live update on the sit-in that "I think there will be change" in response to the demands, but he didn't agree to meet them in full. "I'm proud of our students that are protesting for what they believe in."
Syverud suggested the activists will get some of their demands met when he showed up at the sit-in straight from the airport Wednesday. He apologized for the delay in telling the campus what happened in a single dorm, and said "some of these things" on the demand list "can be done effectively" while others, like curriculum changes, are outside of his "purview."
The College Fix has asked Syracuse media relations what tools it has to investigate the incidents, including surveillance video, and whether it pledges to inform the community of whatever it finds, including if the slurs were posted as a hoax.
Stay on top of the Daily and staff member Casey Darnell for updates.
UPDATE: Chancellor Syverud laid out "immediate actions" the university is taking in response to student demands in a campuswide email after this post was published. His comments have been added.
MORE: Activists keep backing SUNY-Albany hate crime hoaxers
IMAGE: WAYHOME studio / Shutterstock.com
Like The College Fix on Facebook / Follow us on Twitter