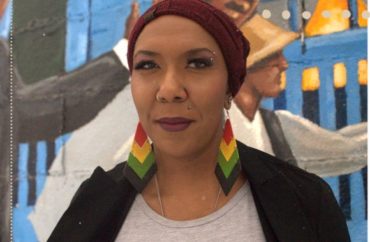 Jenn Jackson has a colorful history of comments
White, Asian and Hispanic students who are hoping to learn about writing from Professor Jenn Jackson are out of luck – her private workshops are only open to black students.
The writing classes, offered through the Syracuse University political scientist's company Colored Convos Media, requires enrollees to be black, though they do not have to be "queer."
"We are a Black and queer owned and operated media company dedicated to providing support to Black and queer writers and content creators," the sign-up form states. "While you do not have to be queer to participate in the spaces, you do have to be Black and you must be committed to centering and honoring the lives and experiences of all queer and trans people."
The mission of the company is to "create a generative and intentional space for Black and queer content creators to be paid to cultivate their writing and creative talents."
Jackson (pictured) describes herself on the website as "a queer genderflux androgynous Black woman."
"They are an abolitionist, a lover of all Black people, and an Assistant Professor at Syracuse University in the Department of Political Science," according to her bio.
She runs the company with her husband, Daren Jackson. The organization also is collecting money to support "Black, queer, trans/nonbinary, womxn/femmes, and disabled folx for college applications, workshop fees, fellowships, and other writing support. Special priority for students who are first-gen and/or applying to HBCUs. We will cover application fees for as many students as we can."
The Daily Wire, which first reported on the story, noted that Professor Jackson has a history of making remarks about race and sex.
The Daily Wire reported:
In the days leading up to the 20th anniversary of the September 11th terrorist attacks, the Syracuse University professor claimed that the attacks were "an attack on the heteropatriarchal system" that "many white Americans fight to protect." Jackson was not disciplined by Syracuse University for her comment.
"In another tweet, Jackson expressed dismay that 'white pundits' still discuss the terror attacks on September 11th, 2001. 'It's twenty years since 9/11 and I'm still really disturbed by how many white pundits and correspondents still talk about it,' her 2021 tweet reads," according to the Daily Wire.
Jackson has previously lamented that "Brits" were going to get two weeks off to mourn the loss of Queen Elizabeth, by bringing the topic back to race, as The College Fix previously reported.
"When have Black folks gotten a chance to mourn? Anybody?" Jackson tweeted. A subsequent "community notes" appended to her tweet noted that there is no proof that there would be a nationwide two weeks off. Instead there was one "bank holiday" for her funeral, though there's 10 days of mourning as a country.
MORE: Supreme Court strikes down affirmative action in landmark decision
IMAGE: JennMJackson.com
Like The College Fix on Facebook / Follow us on Twitter