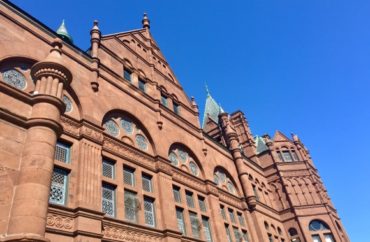 'University is now punishing a professor on behalf of one of the worst totalitarian government[s] in the world'
Syracuse University chemistry Professor Jon Zubieta has been put on administrative leave and faces an investigation by the Office of Equal Opportunity, Inclusion and Resolution Services following his use of the terms "Wuhan Flu" and "Chinese Communist Party Virus" in his syllabus.
In a joint statement from Dean of the College of Arts and Sciences Karin Ruhlandt and Interim Vice Chancellor and Provost John Liu, the two denounced the professor, calling his use of "derogatory" language a violation of the university's commitment to inclusion. They did not name Zubieta in the statement.
"Syracuse University unequivocally condemns racism and xenophobia and rejects bigotry, hate and intolerance of any kind. The derogatory language used by a professor on his course syllabus is damaging to the learning environment for our students and offensive to Chinese, international and Asian-Americans everywhere who have experienced hate speech, rhetoric and actions since the pandemic began," read the statement, published Tuesday.
Neither Liu nor Ruhlandt returned The College Fix's requests for comment on the issue Tuesday and Wednesday. Zubieta also did not respond to requests for comment.
Hi @SyracuseU what do you have to say about chemistry professor Jon Zubieta referring to COVID-19 as "Wuhan Flu" and "Chinese Communist Party Virus" in his CHE 411 syllabus?

Any planned accountability for this blatant racism? pic.twitter.com/teR8RBw5an

— Cassie Dagostino (@casatino) August 25, 2020
(not my photo) @SyracuseU this is jon zubieta's syllabus for CHE411 and he not only refers to covid19 as the "wuhan virus" but also "chinese communist party virus". this is plainly racist and needs to result in severe disciplinary action. pic.twitter.com/E4Zlsb5PIq

— old bird 🍉 (@entoenthusiast) August 25, 2020
According to the Daily Orange campus newspaper, the "announcement comes after social media posts circulated Tuesday of a course syllabus appearing to belong to chemistry professor Jon Zubieta that refers to the coronavirus as 'Wuhan Flu' and 'Chinese Communist Party Virus.'"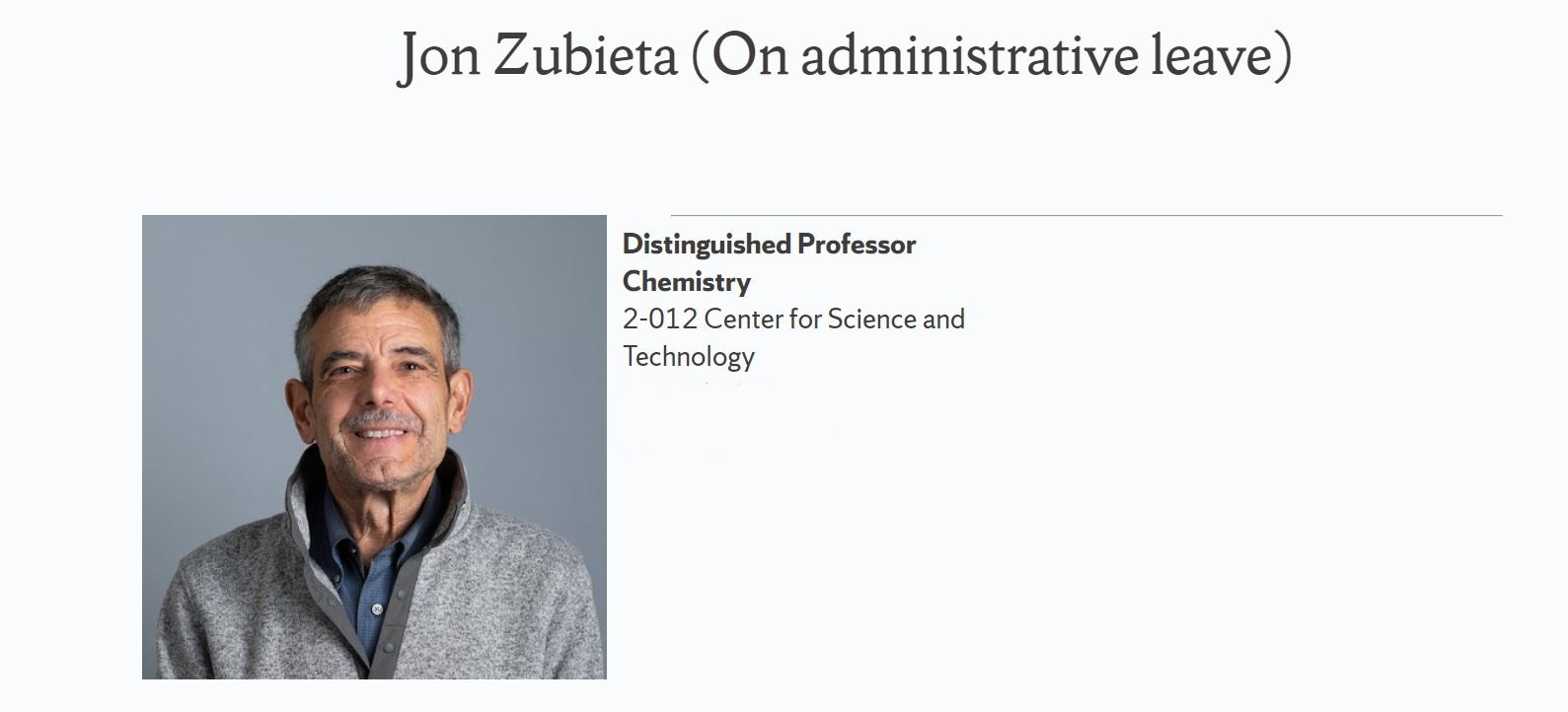 Liu's and Ruhlandt's statement mentions a singular complaint filed against Zubieta with the Office of Equal Opportunity, Inclusion and Resolution Services.
That office at Syracuse did not respond to an email from The College Fix asking if any Asian students had come forward with complaints regarding professor Zubieta's syllabus prior to the school's decision to place the professor on leave.
"The complaint will be investigated and addressed according to procedures set forth in the Faculty Manual," the administrators' statement read. "The professor has been placed on administrative leave from teaching and removed from the classroom pending the outcome of a full investigation."
Not everyone agrees with the university's decision, however.
In an exclusive interview with The College Fix, Syracuse graduate student Gunyeop Lee said that as an Asian student he disagrees with the university's decision.
"I do not speak for all Asian students on campus, obviously, but the school in its statement stated that the professor's words were offensive to 'Chinese, international, and Asian American students everywhere,' but I disagree," the PhD student said via email.
"I am an Asian international student and I suggest that it is actually imperative that we name where this virus came from and who initially spread it."
Lee added:
Apparently, stating [the] obvious is going too far for the SU. Because of the extreme sensitivity to anything that can be considered "racist," the University is now punishing a professor on behalf of one of the worst totalitarian government[s] in the world who is oppressing over one billion Asians every day, in the name of "anti-racism." In reality, people saying 'Wuhan virus' or 'CCP virus' can never do as much harm as the Chinese Communist Party. By covering up the virus initially, China has so far gotten 24 million people all over the world sick and destroyed the world economy. It has put my family and friends back in Asia in fear of catching a deadly virus and robbed them of joyful life. Contrary to what some Americans' belief that the term "Wuhan flu" is inherently racist against Asians, many Asian countries, including South Korea, Japan, and Taiwan, used the same term to describe the virus, until the China-friendly WHO gave it a name "COVID-19." Calling the virus with its place of origin is not racist. It actually has been a common practice regardless of where the virus came from.
Lee is a political science grad student within Syracuse's Maxwell School of Citizenship and Public Affairs.
Recently, however, another Syracuse student has come out calling for the university to take action. Writing an op-ed in the Daily Orange student newspaper, Hamere Debebe argued that the professor used "racist" language.
"SU has allowed ignorance and blatant racism to become a part of its school culture for its students and now faculty. … I cannot speak for SU students or faculty of Asian and Asian American descent and nor should I. However, everyone should be angry at the pattern of hate incidents on campus," Debebe wrote.
Syracuse University is not alone in pulling a professor from the classroom for an incident regarding coronavirus.
The University of Missouri has also removed a professor from teaching and is investigating him for making a coronavirus joke with a student from Wuhan, China, during an online class session, even though the student reportedly was not offended.
Mizzou professor removed from teaching for joking with Wuhan student: 'Let me get my mask on'
IMAGE: Malgosia S / Shutterstock
Like The College Fix on Facebook / Follow us on Twitter