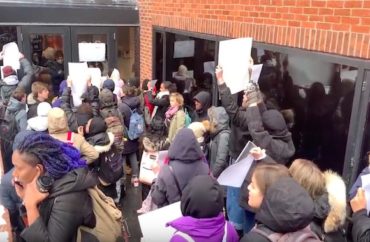 After vowing a week ago to 'maintain [the] occupation'
Student activists have ended their "occupation" of a campus administrative building at Syracuse University roughly a month after they began it and just a week after they promised to continue doing so even as the school shut down over coronavirus fears.
Last Friday the group #NotAgainSU, which claims it seeks to address "the systems of oppression that are upheld and protected" by Syracuse, announced that it would continue to maintain an occupied presence in the school's Crouse-Hinds Hall, where students have lodged themselves in protest since Feb. 17.
The university switched to virtual instruction on March 13 in order to help halt the spread of the coronavirus. Protesters, however, vowed that the protest would continue, stating that the disease "should not be utilized as a means for the administration to ignore its commitments."
Yet yesterday the group announced that it would end the occupation, The Daily Orange reported, after "organizers on Wednesday secured a virtual meeting with university officials to solidify commitments" made by the group. Activists had met with campus administrators several times during the month of March, though none of those meetings ended with resolutions to the conflict.
In an Instagram post on Thursday, the group announced that it "has begun the process of ending the occupation of Crouse-Hinds Hall:"
As of this morning, we were able to secure a virtual meeting with the administration in the near future in order to solidify the commitments they made in negotiations. During that virtual meeting, it is our hope to have a binding document digitally signed so that everyones work and support over the past month will amount to concrete change on this campus for future years. We cannot thank everyone enough for their continuous support and know that this movement isn't possible without you. This movement is not over but this chapter of the Crouse-Hinds occupation is.
The group promised a "full statement" in the near future.
Read The Daily Orange's report here.
MORE: Syracuse U. race protesters will continue sit-in despite evacuation of campus
IMAGE: Syracuse.com / YouTube.com
Like The College Fix on Facebook / Follow us on Twitter