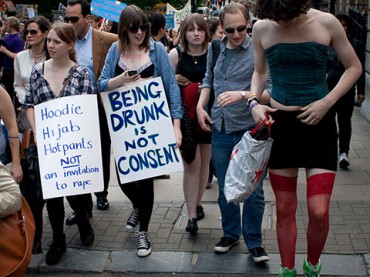 School should move counseling center so women don't have to walk by frats
A sexual-violence workgroup created by Syracuse University appears to recommend that the school adopt the affirmative-consent standard for rape, without acknowledging that it's doing so.
It also pins much of the blame for sexual assault on the school's Greek life, going so far as to recommend that Syracuse move its counseling center away from fraternities so alleged victims won't feel unsafe.
The workgroup's report grew out of Syracuse's sudden closure of the 25-year-old Advocacy Center, which provided sexual-assault resources, redirecting its functions to the counseling center.
That sparked an unsuccessful petition to reopen the resource center and a prolonged student sit-in outside Chancellor Kent Syverud's office when classes started this fall.
In September Syverud created the workgroup, which engaged in meetings, listening sessions and surveys throughout the fall – even reviewing a 1989 task force report on rape – and published its report last month.
Even though most of the Advocacy Center's functions remain, the closure of that facility took away "a safe place for victims and survivors to gather for mutual support," the report said. The closure process "lacked community involvement and transparency" and led to "intense feelings of mistrust, anger, and disfranchisement throughout" the community.
Panel bizarrely acts like affirmative consent is already in effect
The report shows its cards early, recommending Syracuse take a "victim/survivor advocacy" approach. The words "victim" and "survivor" are liberally sprinkled throughout the report, rather than the neutral "complainant" and "respondent" terms that are sometimes used to refer to the parties in an investigation.
Accused students should be afforded "due process," the report says, but it otherwise puts them at a disadvantage, saying it's "appropriate" to force them into no-contact orders, academic schedule adjustments, housing relocation and interim suspension, even when their accusers remain confidential.
It's not clear the workgroup understands Syracuse's formal definition of sexual consent. The report refers to "affirmative consent" several times and says the school should communicate its meaning, despite the fact that Syracuse has explicitly declined to adopt an affirmative-consent policy.
A November editorial in the Daily Orange pointed out as much: While the policy says that incapacitation rules out consent, it is "lacking language that defines affirmative consent."
Backers of affirmative consent do not themselves agree what it means: Some say it requires a "yes" at every stage of sexual activity, while others say that nonverbal cues such as a head nod are sufficient.
The group of students who staged a prolonged sit-in outside Syverud's office had demanded an official affirmative-consent policy, the Daily reported.
The school responded that while it had reviewed its "yes means yes" policy following affirmative-consent mandates for all California colleges and the State University of New York system, it declined to adopt such changes because it "could be perceived as changing expectations of students in the middle of the semester."
Frats will scare off women from nearby counseling center
The report recommends more Title IX training and education, more administrators with Title IX authority and more counseling center staff, and a campus "climate survey" to gauge the prevalence of sexual assault.
The workgroup implies fraternities are so dangerous that counseling services shouldn't be anywhere near them. One long-term recommendation is to create a "hub" for sexual-assault resources that is "not within close proximity to any of the fraternity houses."
The report also suggests working with the Greek life offices and athletics department to educate about "issues of sexual assault and relationship violence," in effect singling out these two groups.
Other recommendations include: "inclusive" bystander education that is "designed from perspectives that are not limited to male-female relationships"; "identifying members of the campus community who are considered to be responsible employees under Title IX" and creating a "Chancellor's taskforce on sexual assault and relationship violence."
One issue the group presented was that "the discourse on campus … typically focuses on male-on-female violence involving students who are fulltime undergraduates, White, and heterosexual."
The workgroup was co-chaired by Chase Catalano, director of the LGBT Resource Center, who self-identifies as "trans* (FtM) and queer" and has a Ph.D. in social justice education. The College Fix could not reach him for comment.
Erin Carhart, a former student who started the Advocacy Center petition that came up short on its 10,000 sought signatures, could not be reached for comment.
College Fix reporter Matt Lamb is a student at Loyola University-Chicago.
Like The College Fix on Facebook / Follow us on Twitter
IMAGE: Roga Muffin/Flickr