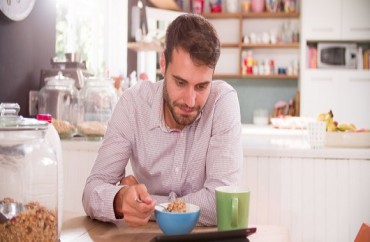 A story which went viral over the weekend just got a bit "better."
Arnold Anderson, an elementary school teacher at Roosevelt Elementary School in New Brunswick, New Jersey, was late to work 111 times over the last two years.
The district tried to fire him, but an arbitrator nixed that, instead saying he was entitled to "progressive discipline." However, he will remain on unpaid suspension until January.
Anderson makes around $90,000 a year.
Anderson blamed his tardiness on — wait for it — eating breakfast, saying he "lost track of time." Yep, 111 times he lost track of time.
Anderson was late 46 times in the most recent school year through March 20 and 65 times in the previous school year, the arbitrator said.

Anderson said he was one to two minutes late to school "at the most" but was prepared and was never late for class.

"I have to cut out eating breakfast at home," he said Friday.

The arbitrator found that the district failed to provide Anderson with due process by not providing him with a formal notice of inefficiency or giving him 90 days to correct his failings before terminating his employment.

Anderson said he was "very upset" to be suspended but conceded that losing his job would have been worse.

When he returns to school in January, "I will be early," he said.
That would be a nice change of pace.
Like The College Fix on Facebook / Follow us on Twitter