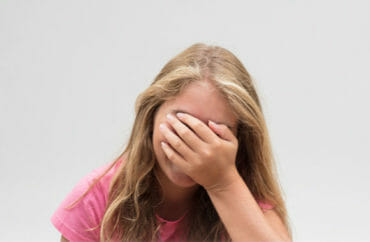 A school district in New York State is dealing with an uproar after one of its high schools printed yearbooks featuring a teacher's admiring quotes about Adolf Hitler.
Whitesville Central School social studies teacher Jeff Acor said the Nazi leader was his "favorite person in history" because he made Germany "a world super power" and was "arguably the greatest public speaker in the history of the world."
Hitler "did a great many things for Germany and their youth before the infamous Holocaust," Acor's statement continues. "Adolf was outed and faced hardships early in his life which a lot of people can relate to."
According to the Olean Times Herald, the controversy "made international news" and resulted in district officials confiscating the yearbooks. Former Whitesville Superintendent Laurie Sanders said in late June that a new edition of the yearbook would be printed with Acor's "complete statement" as the first one was "incomplete" and "out of context."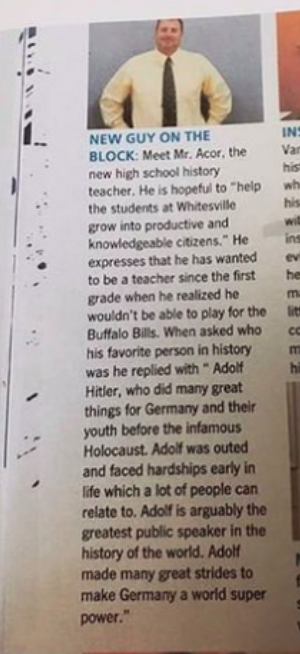 However, Sanders' replacement Tammy Emery said "no decisions have been made concerning the reprint of the yearbook," and added that an investigation into the matter is continuing.
District officials have said the yearbook was produced by a student-run, after-school club with an adult adviser, noting they "try to give students the freedom and creative license to create and determine content."

Acor's statements in the yearbook were featured on what appears to be a page dedicated to teacher profiles. His comments, as well as his photo, are labeled "New Guy on the Block." Acor, a 2005 graduate of Canisteo-Greenwood High School in Steuben County, was hired by the district just this past school year.

The profile introduces Acor as a new teacher, quoting him as saying he's hopeful to "help the students at Whitesville grow into productive and knowledgeable citizens," and that he has wanted to be a teacher since realizing in the first grade he "wouldn't be able to play for the Buffalo Bills." …

When asked about Whitesville's decision to potentially not reprint Acor's statement with additional comments, [the Anti-Defamation League's Alexander] Rosenberg said, "I have more questions than answers at this point, but the main question I'd ask is: Is the yearbook the appropriate place to expand on that kind of statement? Is the yearbook, where you're basically sending off the graduating class, the appropriate place to make a statement about history and leadership?"
In a joint message on the district website, Sanders and Emery wrote "Be assured that we are reviewing the entire matter with all of our attention and steps are being taken so that it does not happen again."
MORE: Senior's 'Hitler' quote in yearbook sends school officials scrambling
MORE: Prof assures Harvard she only compares Trump to Hitler outside of class
IMAGES: Giulio Fornasar / Shutterstock.com, Twitter
Like The College Fix on Facebook / Follow us on Twitter