A New Jersey high school teacher has been awarded a $325,000 settlement following a years-old dispute regarding a censored yearbook photo.
Former Wall Township School District teacher Susan Parsons sued the district two years ago after, she alleged, being "scapegoated" over the photoshopping of a student's "TRUMP Make America Great Again" t-shirt.
According to NJ.com, Parsons claimed a Wall Township High School secretary serving as "a proxy for the principal" made her blur out the political slogan on the photo. In fact, she said the district "routinely forced her to edit yearbook photos" of anything that could be considered "controversial."
Logos that weren't censored that year included Alice Cooper, Led Zeppelin and Super Mario Brothers.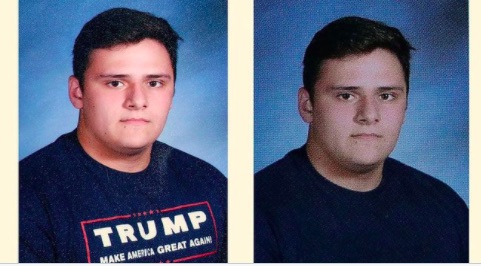 With the settlement, Wall Township makes "no admission of wrongdoing or liability" and the payout will come via the district's insurance company.
Parsons told NJ Advance Media in 2019 that fallout from media coverage made her feel akin to "some scourge" and turned her into a nervous recluse, too afraid to leave her home in the township. She was flooded with hate mail and voice messages, her lawsuit alleged.

"My life has not been the same" she said then, "and I don't think it ever will." …

The settlement agreement punctuates a controversy that infuriated many parents in Wall Township, where Trump won nearly 63% of the vote in 2016 and 58.5% in 2020.

Parsons will receive about $204,000, and the remainder of the settlement will cover attorneys fees, according to the agreement.

She previously received a $25,000 settlement from a lawsuit challenging a district media policy that she said forbid her from telling her side of the story without obtaining permission from the district.
In 2019, former superintendent Cheryl Dyer defended the district's actions in a statement, saying that when all the facts come forth, they "will be found to be wholly appropriate." Shortly after the controversy came to light, Dyer claimed the Wall Township HS administration "was not aware of and does not condone any censorship of political views on the part of our students."
MORE: HS student suspended for 'Hillary for Prison' t-shirt
MORE: University punishes students for wearing 'F**k Safe Space' t-shirts
IMAGES: S Photo / Shutterstock.com; Adam Clark / Twitter screencap
Like The College Fix on Facebook / Follow us on Twitter