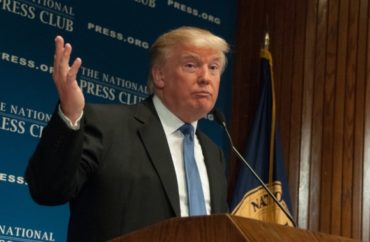 Here we go again: Another (California) school teacher thinks it appropriate to use his classroom as a forum to yammer about his personal politics.
Oxnard Union High School English teacher Patrick Casey was recorded last month telling his virtual class that President Trump's "Make America Great Again" slogan actually means making it "racist and sexist" again.
"White men miss the old days when they could just be a white dude that walked up and grabbed women by their genitals and nobody said anything," Casey tells his students. "But you can't do that now, that's why there's all these people going 'Make America Great Again,' what they mean is, 'make it kinda racist and sexist again.'"
This is who is teaching our kids.

Patrick Casey, a teacher at @OxnardUnion H.S. in California told his class that Trump Supporters were "racists" and "sexists."

Why hasn't he been fired yet? 🤔

RT! pic.twitter.com/mKOsCfJuDE

— Ryan Fournier (@RyanAFournier) October 9, 2020
According to The Post Millennial, over 100,000 people have viewed the video since it was made available.
Many commenters on Twitter echoed the sentiment in the following pair of tweets:
As a teacher, I understand trying to relate to what's happening in the world. However, using a teacher's influence over students to promote a specific ideology has no place in the classroom. Incidentally, I would absolutely be fired for doing exactly what he did.

— Digiteach (@jdinsmoor) October 9, 2020
This is unacceptable. It's good for teachers to facilitate discussions about current events and allow students to explore and understand and maybe even help facilitate students asking DOK3/4 questions of each other and from the teacher. But not where the teacher is indoctrinating

— Keith Lochner (@keith_lochner) October 9, 2020
Of course, there were those who didn't see anything wrong with what Casey did:
Because it's demonstrably correct?

— Damn True (@DamnTrue) October 9, 2020
Where's the lie though?

— Longinus (@magistertalley) October 10, 2020
Because he was telling the truth?

— Tax Paying Sierra (@Sierra0505) October 9, 2020
The College Fix asked both Casey and Oxnard Union District Interim Superintendent Tom McCoy for comment on the matter, but did not receive a reply in time for publication.
MORE: Teacher rips student for naming President Trump as person he admires
MORE: Teachers' reactions to first debate unsurprisingly one-sided against Trump
IMAGE: Albert H. Teich / Shutterstock.com
Like The College Fix on Facebook / Follow us on Twitter