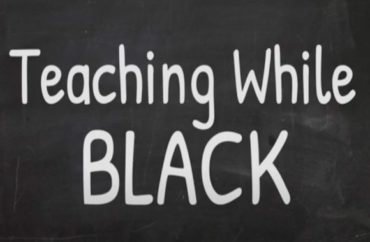 A pair of Stockton University professors has produced a "dramedy" pilot for a potential TV series called "Teaching While Black" — which details the microaggressions and co-worker/student "ignorance" a young black female professor deals with on a daily basis.
According to Philly Voice, the series is the brainchild of Professors Donnetrice Allison (communication and Africana studies) and Aaron Moss (theater and directing). It's based on Allison's own early experiences in academia at a PWI — predominately white institution.
"I got some books out from the library and started thinking," Allison said. "I was 25 years old when I started teaching […] and the story just came from that."
Moss came on board to offer a "millennial" perspective. "The power dynamic of being a professor of color in a PWI are very much present," he said. "A lot of people of color or women can relate to this."
The result was a story that "touches on a lot of serious, contemporary, racial and workplace issues," Moss said. But it's still a comedy that presents these topics with some lightheartedness.

Allison and Moss hope their series appeals to a major streaming service, like Netflix, Hulu or HBO. They have fully written two episodes and mapped out five seasons in case they acquire a producer to move the project forward.

For now, the pilot is being submitted to TV and film festivals and shopped to networks. "Teaching While Black" has been selected to be screened in Canada during the International Black & Diversity Film Festival and is a finalist for best series plot in the New York International Film Awards.
MORE: Black professor rips anti-racism trainings: 'disempowerment'
The trailer for the series, available on YouTube, is akin to a university or school district equity workshop skit which (allegedly) illustrates what non-white and non-male employees have to navigate — but in reality is stereotypically cringe-worthy.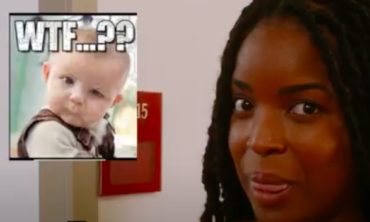 The main character, Shayna Black (get it?), heads off to teach in Indiana where she is going to "shake things up — one privileged frat boy at a time." But even older, ginger white ladies have to be dealt with for upon Black's arrival, a colleague matching that description informs her she "just can't get over how beautiful [Black's] skin is."
"I've never seen anything like it," the colleague continues. To which Black then conjures up a small (white) kid thinking "WTF … ??" (Pictured)
This is followed by a presumed college (white male) administrator telling a group of professors to "give themselves a round of applause" for hiring "diverse" new faculty (as he gestures towards Black).
More white guys prove themselves to be dolts as we see a faculty peer ask Black if she's seen Jane Bay "in the Marcy Projects" (see here), a long-haired skateboarder type tell her she is "too hot" and "young still" to have a PhD; a guy who looks like Lewis from "Revenge of the Nerds" tell her that university officials "are pretty desperate to meet their diversity quota," and an obvious jock ask her "when do we get to meet the actual professor?"
Check it out:
MORE: Black professor argues Republicans have 'deputized all white people to murder us'
IMAGES: Shayna Black / YouTube screencaps
Like The College Fix on Facebook / Follow us on Twitter