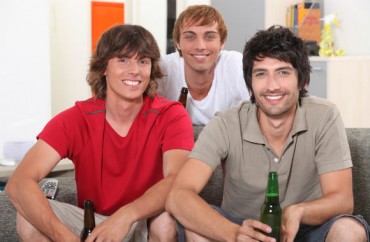 A student columnist at the University of Kansas has a novel explanation for why campus sexual assault is purportedly so rampant and why it's allegedly worse in Greek life: the design of fraternity houses.
Anissa Fritz, the opinion editor of the University Daily Kansan, argues that "the layout and structure of these houses" should be taken into account when devising solutions for rape culture, citing the "defensible space theory":
A house with this many rooms and narrow hallways and stairwells that can sometimes closely resemble those in parking garages is confusing enough while sober. Once alcohol is added, these houses can turn into a winding maze.

Uncomfortable situations are awkward enough to get out of, but things can get dangerous when someone doesn't physically know how to exit the location. The Defensible Space Theory states that alcohol can be disorienting on its own, but when placed in an even more confusing layout, finding your friends, cell service or the doorway out can seem more difficult. And the only person one can turn to in this situation is a fraternity member of the house — a member who knows the way out along with all the nooks and crannies that are easily ignored by passers by.
Fritz cites an article from the National Housing Institute by the avowed creator of the defensible space theory, an architect who explains how his work turning a crime-plagued neighborhood in Ohio into 10 "mini neighborhoods" drastically cut its crime rate.
Though Fritz doesn't say it explicitly, her implication is clear. Tearing down frat houses, which in many cases are too old for major remodels of their internal layouts, is an effectual solution for reducing rape culture:
The layout of these fraternity houses are not the cause of rape culture alone. But with alcohol, the wrong timing and someone who does not have good intentions, these houses can turn into traps for someone who is already dazed and confused, and thereby forcing them to depend and trust on someone whom they maybe shouldn't.

The numerous rooms, the tight hidden stairwells and maze-like hallways can invite malicious acts that could turn an individual into a statistic.
Like The College Fix on Facebook / Follow us on Twitter
IMAGE: auremar/Shutterstock