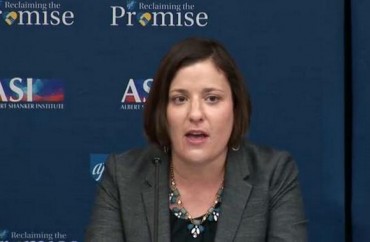 Past employees criticized her management
A Temple University professor who once compared Republicans to Nazis has quit her job after a probe into how she managed a center on campus.
Professor Sara Goldrick-Rab left the university and the Hope Center for College, Community and Justice on Friday, after campus officials opened an investigation into allegations of her work environment and financial problems. She started as a professor there in 2016 and founded the center in 2018.
"My grandfather, a psychologist, just walked me through similarities between [then-Wisconsin Governor Scott] Walker and Hitler. There are so many-it's terrifying," Goldrick-Rab tweeted in 2015, while a professor at the University of Wisconsin-Madison. "No doubt about it-Walker and many Wisconsin Legislators are fascists. Period. They proved it today. #SHAME," she (pictured) tweeted the next day, in response to budget battles about education funding.
She later apologized for her comments.
The College Fix previously reported:
Former employees told Inside Higher Ed that Goldrick-Rab had told Hope Center workers to raise money for the professor's nonprofit organization, Believe in Students, rather than for the center, claiming that funneling money through her own tax-exempt organization allowed Goldrick-Rab to circumvent many of the school's rules.
"The center fails to live out the public values of the work being done when it comes to the treatment of staff," one anonymous former employee told Inside Higher Ed.
"There's drama everywhere, you know," another employee said. "You go to places of work and there's bad bosses. There's people who do shitty things. I get it. But this is just untenable."
The former professor wrote that the decision was not "easy."
"This wasn't an easy decision. I've earned tenure multiple times and walking away from a tenured faculty role and the leadership of a center I founded isn't something I'm taking lightly," Goldrick-Rab wrote on her blog on Saturday. "There are so many humans involved — humans who matter a great deal to me and made much of my time at Temple enjoyable and productive."
After thanking some people and groups, Goldrick-Rab wrote that "other experiences during the last six years — and particularly the last four months — caused me to realize that Temple is not the right home for me and my work advancing affordability and basic needs security for college students."
MORE: Campus diversity program accused of having toxic environment
IMAGE: Albert Shanker Institute/YouTube
Like The College Fix on Facebook / Follow us on Twitter