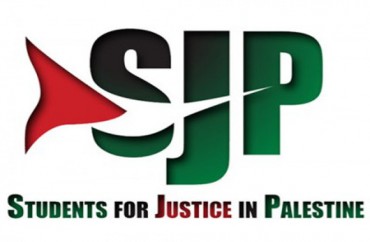 Temple University's Students for Justice in Palestine held a "liberation" event this past Saturday which featured readings from Ahmad Sa'adat, the secretary-general of the Popular Front for the Liberation of Palestine — a US-designated terrorist group.
"Palestine & Black America: A Strategy for Liberation," co-hosted by the Saturday Free School, also featured works by Black Panther Party founder Huey Newton.  According to the SFS website, it "recognizes the failure of universities to create knowledge for the people because of their deep ties to the neoliberal capitalist establishment," and highlights "thinkers" such as Angela Davis, Huey P. Newton, Fidel Castro, Mumia Abu-Jamal, and Karl Marx.
According to The Algemeiner, the SJP did not see fit to mention in its online event advertisements that the PFLP is a terror outfit. Instead, its Facebook description says that after the readings of Sa'adat and Newton there will be "a discussion on Black and Palestinian revolutionary thought," with further presentations by both organizations "on how to best continue the struggle for the liberation of humanity."
The group also posted an interview with the late PFLP founder George Habash, who described the (now-incarcerated) Sa'adat as a "political prisoner." Sa'adat was convicted of ordering the killing of Israeli Tourism Minister Rehavam Ze'evi.
This PFLP's full credentials likewise did not appear in an article published by a Temple SJP affiliate earlier this month, which was included in promotional posts for the event and described the group as "the most ideologically clear organization in the Palestinian liberation movement" that rightly rejected "so-called 'peace' agreements with Israel."

The article denounced Zionism — the movement for Jewish national self-determination — as "an attack on the unity of the civilizations of Asia and Africa," and accused Israel of "fueling wars within the region in order to put more money into the pockets of imperialists."

In its 2017 constitution, Temple SJP dedicated itself to raising awareness of "the dire situation in Palestine … since the 1948 occupation," the year when Israel declared independence and was immediately invaded by five Arab armies.

As a registered student organization, it is eligible to apply for funding from the Temple Student Government. Yet a university spokesperson said the club "has neither requested nor received funds" for this event.
Last year, the Temple SJP paid homage to Habash with a graphic that read "As long as you are still fighting in defense of your dignity and for your occupied land, all is well."
MORE: Student gov. meeting shut down by pro-Palestine activists
MORE: Philly pre-schoolers treated to 'Palestine ABC' story time
Like The College Fix on Facebook / Follow us on Twitter