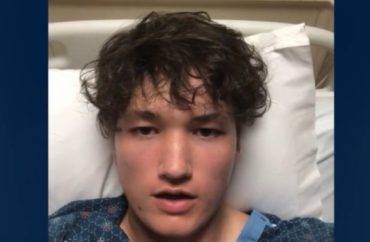 UPDATED
Video has been removed by TikTok
A Tennessee State University athlete said he will miss his senior season due to "heart complications from the [COVID] vaccine."
In a since-removed TikTok video (College Fix copy below) golfer John Stokes said he had been diagnosed with myocarditis after he received the second dose of a COVID vaccine. He said he had "no prior health issues." He told The College Fix after publication of the article that he took the Pfizer shot.
Stokes originally declined requests from The College Fix for a copy of medical documentation that shows his diagnosis. A video that Stokes referred The Fix to does show a copy of a letter from the hospital as well as his vaccine card.
"I've been informed not to release any medical documentation," Stokes told The Fix via Instagram message prior to publication. He did not specify who told him this.
Stokes told The College Fix he had not been informed of the risks of heart inflammation prior to receiving the vaccine. He also spoke to local TV station WKRN. He told the Tennessee news station that doctors told him he may not be able to golf this season because walking quickly could drive his heart rate to a dangerous level.
In his video he said that the NCAA should not mandate the COVID vaccine, but it has not yet required one, nor has the university.
"The University cannot release information regarding a student's personal record, including academic standing or health-related issues due to FERPA and HIPAA laws," Tennessee State spokesperson Lucas Johnson told The Fix via email, when asked about Stokes' story.
He shared information on the TSU Athletics Department policy. "No student athlete, coach, or staff member has been required to get the vaccine for COVID-19," the policy said. "No such mandate has been issued by the NCAA, the Ohio Valley Conference, or Tennessee State University. There are, however, different testing policies for vaccinated and unvaccinated student athletes, coaches, and staff."
"During their competitive season, unvaccinated student athletes will be required to provide three negative antigen tests a week," the policy said, according to the information shared by Johnson. "One of those tests must be within 72 hours of the beginning of competition. Vaccinated student athletes will only be required to test if they become symptomatic."
NCAA spokesperson Stacey Osburn told The Fix that the decisions on vaccination are made by colleges and conferences.
But Stokes said that he had received information that indicated a mandate would be coming.
"I was informed that there was a likely possibility of a mandate happening from either the government, NCAA, conference, or possibly the university at some point during the year," Stokes told The Fix. "If I wasn't vaccinated when the mandate came out, I wouldn't be able to travel or play because of the length of time to get both shots and then wait two weeks after."
Stokes said the purpose of his TikTok video was to inform as many people as possible about the risks of the vaccine that he "wished someone had told [him]." Stokes also stated in the video that he knows of other athletes who developed similar heart conditions after receiving their vaccination shots.
The Food and Drug Administration added a warning to the Pfizer and Moderna vaccines in June that said there is an increased risk of myocarditis and pericarditis.
A September 17 vaccine safety meeting included comments from Doran Fink, an adviser on immunizations for the FDA, who said that the risks of myocarditis for people under 40-years-old from the vaccine is greater than the risk of a severe reaction to COVID.
MORE: Student appears to have died from vaccine-induced heart inflammation
Editor's note: After publication, Stokes contacted The College Fix to say he took the Pfizer vaccine. The article has also been updated with a link to a video that shows medical documentation.
IMAGE: John Stokes/TikTok
Like The College Fix on Facebook / Follow us on Twitter