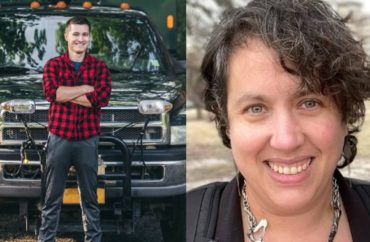 Cars are a 'signifier of status' and 'power,' professor says
A transportation professor at Texas A&M University said that "car culture" and "toxic masculinity" are intertwined.
Professor Tara Goddard teaches urban planning and landscape architecture at TAMU and recently spoke to Kea Wilson, a transportation commentator for a website called Streetsblog USA. Goddard talked about these topics at Portland State University in February as well.
Any approach to addressing "toxic masculinity" on the roads must focus on "people with power" who are making policies, such as those in state transportation departments, Goddard said.
Cars are a "signifier of status, of power, of dominance, of the U.S.'s role in the world," she said.
Goddard (pictured) also criticized the "top down" and "masculine" approach taken by civil engineers and other policymakers. In many parts of the profession it is mostly "white" and "upper middle class" men who have a "worldview" that is "technocratic."
She suggested "shifting away from cars" as an idea worth considering and wants to see further government interventions to train drivers.
The transportation scholar criticized what Wilson, the host, called "truck nuts" who like large trucks.
Goddard cited Cornell University philosopher Kate Mann's views on toxic masculinity and misogyny to define how she uses the word. Mann, according to Goddard, views statements such as "men should be the provider" and "men should be strong" as forms of toxic masculinity.
She also cited Virginia Tech professor Cara Daggett's research on "petro-masculinity."
"The concept of petro-masculinity suggests that fossil fuels mean more than profit; fossil fuels also contribute to making identities, which poses risks for post-carbon energy politics," Daggett wrote in 2018. "Moreover, through a psycho-political reading of authoritarianism, I show how fossil fuel use can function as a violent compensatory practice in reaction to gender and climate trouble."
"Truck nuts" display "hypermasculinity" because they are responding to what male drivers see as threats to masculinity.
Another example of the toxicity of "car culture" that affects not just men is a stereotype of Midwesterners as driving long distances instead of flying, Wilson said.
She drew on her own experience of her family making comments about driving long hours as an example of toxic masculinity..
Goddard said she hopes to research "gendered" views on speed limits and how to use technology to limit cars and stop them from speeding. She also wants to look at retraining "upper management folks" at a department of transportation to make sure they see their own biases.
MORE: College offers course on 'Rhetoric of Toxic Masculinity'
IMAGE: NITC.trec.pdx.edu; NickStarichenko/Shutterstock
Like The College Fix on Facebook / Follow us on Twitter