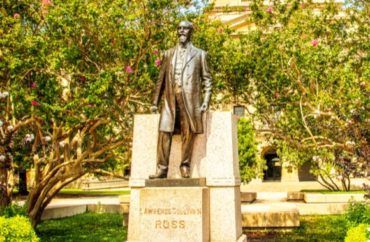 University has always said it needs legislative approval first
When Texas A&M University's Commission on Diversity, Equity and Inclusion released its final report last week, some students were under the impression that the taxpayer-funded institution might remove the prominent campus statue of Lawrence Sullivan Ross, its former president, Texas governor and onetime Confederate general.
They apparently missed a line from the report on page 12 of 113, which said "legislative approval may be required to alter, move or remove the monument."
Interim President John Junkins told The Texas Tribune two days after the report's release that the removal of Sul Ross, as the statue is known, was not an option and hadn't been for the entire duration of the diversity committee's study last year.
This was not a reversal, as the Tribune notes: John Sharp, chancellor of the university system, said all the way back in August that it couldn't act without approval from the Legislature.
Commission member Matthew Francis Jr., representing the university's NAACP chapter, said he wasn't aware that the statue's presence was not up for debate when he was working on the 45-member commission.
"What's the point in progress if those who have the power to make progress are just going to continue to double down on the very thing that we're trying to make progress on?" he told the media outlet.
Black Student Alliance Council Director Qynetta Caston also said her group was blindsided by Junkins' announcement that the statue wouldn't be removed, believing that the commission's study of the issue meant all options were on the table.
While the Tribune opines that the report "characterized the question of the statue's future as unresolved," the report specified the commission's limited role: It was only tasked with providing "findings" but not "recommendations, opinions or conclusions" about so-called DEI issues at the university.
Some of those findings: Most faculty want the Ross statue moved somewhere else on campus so it's no longer the "centerpiece"; staff who mentioned the statue in interviews want more "context" for Ross's life; and students are "more likely to prioritize the feelings of their marginalized classmates than the tradition" when considering what to do with the statue.
The commission's study of similar statue controversies at different universities found that the Ross statue's continued presence on campus would "very likely" result in continued "protests and controversy."
The report said failure to address "the attention or controversy surrounding symbols, names and iconography will likely result in additional reputational damage" to the university, yet the next line emphasizes the university must remember to consult the Legislature.
A new "action-focused" committee will now make recommendations about the statue and other issues, with a due date of March 26.
MORE: Texas A&M sees spike in diversity without affirmative action
IMAGE: ShengYing Lin/Shutterstock
Like The College Fix on Facebook / Follow us on Twitter