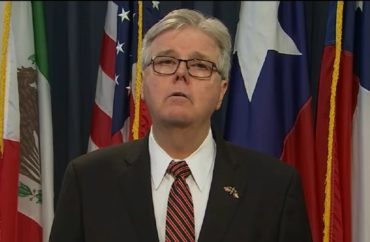 Texas A&M placed a professor on paid leave after she criticized Lt. Gov. Dan Patrick in a guest lecture, according to an investigative report published Tuesday by the Texas Tribune.
The suspension occurred in March — she was put on leave mere hours after she made the comments about the GOP politician — and lasted two weeks as the investigation into the matter was underway, but Texas A&M University Professor Joy Alonzo was eventually cleared of any wrongdoing, the Tribune reported.
While it took place earlier this spring, news of Alonzo's suspension now comes amid a national controversy over how Texas A&M has handled left-leaning scholars.
Texas A&M University President M. Katherine Banks resigned last week after facing criticisms on how the university pulled the rug out from under a black scholar who was set to lead its journalism program.
The university had reportedly walked back perks of its job offer to former New York Times editor Kathleen McElroy, likely because she is liberal, prompting McElroy to ultimately decline the position. Observers accused Texas A&M of botching the whole affair.
New: Texas A&M suspended a professor after a student accused her of disparaging Lt. Gov. Dan Patrick during a lecture.

Chancellor John Sharp communicated directly with the lieutenant governor's office about the incident, promising swift action. https://t.co/JXIOX2GgMS

— Texas Tribune (@TexasTribune) July 25, 2023
In this latest scandal, the Tribune reported that after Alonzo made some jabs at Patrick for allegedly not caring enough or doing more to address the opioid crisis during a guest lecture at the University of Texas Medical Branch, she was suspended the same day:
The lecture ended around noon. … At 4:22 p.m., as Alonzo was learning that a controversy was brewing, a course coordinator sent an email to the entire class distancing UTMB from comments Alonzo allegedly made about Patrick. The subject line read, "STATEMENT OF FORMAL CENSURE."

"The statements made by the guest lecturer do not represent the opinion or position of the University of Texas Medical Branch, nor are they considered as core curriculum content for this course," the email said.

"UTMB does not support or condone these comments. We take these matters very seriously and wish to express our disapproval of the comment and apologize for harm it may have caused for members of our community," the email continued. "We hereby issue a formal censure of these statements and will take steps to ensure that such behavior does not happen in the future."
Apparently Texas Land Commissioner Dawn Buckingham's daughter, a med student, attended Alonzo's lecture: "Buckingham served six years in the Texas Senate with Patrick, who endorsed her run for land commissioner last year"; the Tribune reported "Buckingham called Patrick to alert him that an A&M professor had made negative comments about him during a guest lecture at UTMB," and Patrick allegedly followed up with Chancellor John Sharp of the Texas A&M University System.
In a statement, Texas A&M University System spokesperson Laylan Copelin told the Tribune the "investigation into the matter was a reasonable step to take, particularly after UTMB issued a public statement 'censuring' one of our faculty members."
"In fact, it would have been irresponsible not to look into it."
But the Tribune added "Texas A&M would not answer questions about what specific policy Alonzo may have violated with her comments or provide documents pertaining to the investigation, citing state law that allows a university to withhold such information if a person is cleared of wrongdoing."
MORE: Texas A&M professor threatens to quit if she can't teach critical race theory
IMAGE: Fox4Dallas / YouTube
Like The College Fix on Facebook / Follow us on Twitter