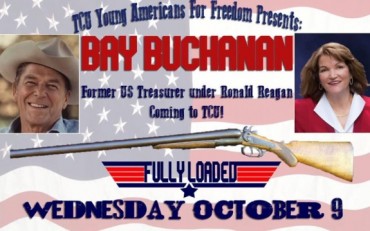 Texas Christian University officials refused to allow a conservative student group to distribute fliers promoting its pro-Second Amendment event through official school channels because it had a picture of an antique shotgun on it, The College Fix has learned.
What's more, school officials refused to allow the group – Young Americans for Freedom – to raffle off various gun-safety lessons as a prize at its Wednesday night event, which featured Bay Buchanan, a prominent conservative political commentator and U.S. Treasurer under President Ronald Reagan.
All this at a school that has one of the top rifle teams in the nation, as well as a large population of students who enjoy hunting, sport shooting, and support the Second Amendment, said junior Kathleen D'Urso, founding chairwoman of the 2-year-old campus group.
"I really think it's just politically correct," D'Urso said Thursday in an interview with The College Fix. "They are really worried about how people are going to react, even to an image of a gun. Frankly, it's shocking to me, and it's wrong."
D'Urso said school administrators rejected the flier – which included pictures of Buchanan and Reagan imposed over an American flag with an antique shotgun below their images and the words "fully loaded" – because of its gun references. Students were allowed to hand it out physically, but administrators would not distribute it to academic departments nor post it on official school websites, she said.
Administrators also refused to allow the group to hand out either a free concealed handgun training class, a shotgun training class, or a skeet shooting gift certificate as raffle prizes.
"They just shot us down, told us … we can't do anything with guns whatsoever," D'Urso said.
The school does not allow guns on campus, but the private Fort Worth-based campus is located in an area frequently hit with armed robberies and with a very high concentration of registered sex offenders, she said, adding the topic Wednesday night was an important one for the campus to address.
But the campus group resorted to handing out cookies to audience members instead of a raffle prize, which D'Urso said hurt attendance. Organizers hoped for 100 people to attend, instead only about 45 showed up. D'Urso said she felt censored by campus officials.
"Bay's speech was received really well, she answered a lot of questions about guns on campus and stats," she said. "(But) I am frustrated. This event wasn't supposed to advocate guns on campus, we simply wanted to open up a discussion on 2nd amendment rights."
Reached for comment Thursday, Texas Christian University officials defended their decisions, saying they tried to work with the students, offering to print fliers for the group or post the event on an official campus Facebook page if the students would remove the gun image from the flier.
As for the raffle prizes, campus spokeswoman Lisa Albert said in an email "gun promotion is contradictory of the university's policy to carry on campus."
"The marketing and communication team, as well as student affairs staff, offered several alternative options for publicity to the student group, and we did allow the event to take place on campus," Albert said. "The root of much of the issue is that allowing promotion of an event with guns sends a mixed message to campus since we do not allow guns on campus."
"We are mindful that students have a right to gather and dialogue about ideals and beliefs that they support," Albert added. "That is a big part of what being at a university is all about. However, those dialogues and discussions should be managed in a tasteful manner that does not offend or alarm other students, faculty or staff or members of our surrounding community who have differing viewpoints. Producing a poster with a rifle on it and the words 'fully loaded' can certainly cause alarm in today's environment."
Patrick Coyle, executive director of Young Americans For Freedom, said he strongly disagrees with how campus officials handled the situation.
"The obstacles conservatives face to advance their ideas is widespread," he said Thursday in an email to The College Fix. "This incident is another example of a school administration bowing down to political correctness and not encouraging all students to engage in an honest discussion on the Second Amendment."
Coyle said he has advised the TCU chapter of Young Americans for Freedom to increase their activity on campus.
"University campuses are typically where political correctness runs amok, and schools in Texas are no exception," he said. "… It is young conservatives who remind the campus community that there is a real world outside the campus bubble that believes their academic value system is absurd."
Jennifer Kabbany is associate editor of The College Fix.
CLICK HERE to Like The College Fix on Facebook / TWITTER: @CollegeFix