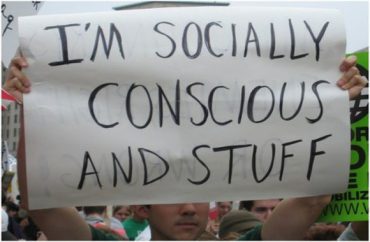 In the wake of the arrest of four Texas State University students on May 1, protesters began a sit-in at the campus's LBJ Student Center the following day.
As reported by Campus Reform, campus police ended up arresting the quartet after a student had his "Make America Great Again" yanked off his head:
"Tyler M. said he chased after the girl [who took his hat] and grabbed her backpack to slow her down. He told Campus Reform that he only touched her backpack.
"'I only held her [backpack] for a good five seconds…it was never her physically,' Tyler M. said. 'As soon as I got out of the crowd, I let go of her bag and I came up beside her and I said, 'can you please give me back my hat?'"
The girl eventually dropped the hat and kicked it. She promptly was taken into custody by campus police along with another student Tyler identified as a member of Antifa. Two other students ended up cuffed well. Members of the Texas State chapter of the Young Democratic Socialists of America took issue with the arrests, and tweeted out the following:
#TXSTinjustice pic.twitter.com/eNy7YF2LnC

— YDSA @ TXST 🌹 (@TXSTYDSA) May 1, 2019
According to The University Star, the sit-in at LBJ was organized by TXST Resistance, "a cohort of students and student organizations devoted to advocating for the rights of marginalized students."
TeraLynn Steele of PAAC and the Black Art Association seemed to have a bit of difficulty articulating the rationale for the sit-in:
"Part of it is just us feeling like the need to react immediately […] I think we were all just pissed and angry and in more of an exhaustion sort of manner. This was much more urgent. This was fear, this was pain, this was hurt. Especially because last year it was just like…we were all really angry, but it was more from a place of annoyance more than anything else."
Naturally, the protesters issued demands including the "creation of a student task force to assist in non-violent offenses," mandatory sensitivity training for campus police, and (police) training in "de-escalation tactics" and "how to recognize and overcome biases regarding minority students."
Oh, and because why not, the activists also want a "cultural diversity" requirement added to the Texas State core curriculum, as well as an "expansion of diverse course options."
Read the Campus Reform and University Star stories.
MORE: Protester trashes anti-abortion display at Texas State
MORE: Texas St. student exposes breasts to protest objectification of women
IMAGE: Sam Felder / Flickr.com
Like The College Fix on Facebook / Follow us on Twitter