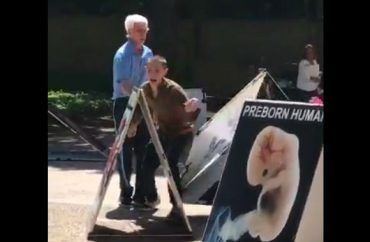 Humanity is rarely at its best when confronted with the reality of abortion, and new video from Texas State University shows it.
An older pro-life activist was displaying graphic images of aborted fetuses from Created Equal, a controversial pro-life group that aims to shock the consciences of onlookers, on Monday when a young man lost his cool.
A bystander recorded video of the young man trashing the posters. As The Tab reports:
The student says: "Get the fuck out of here with this bullshit."

The older man responds: "We have the right to be here."

He shouts: "No you don't! This is fucking bullshit! Get this [shit] out of here! Fuck! This is bullshit!"

MORE: Principal threatens pro-life group on public property

The anti-abortion protester says: "It doesn't matter, this is freedom of speech!"

And he responds: "No it's not man! It's wrong!"
Currently pic.twitter.com/XKqzofDzI4

— Emma Brockway (@theEmmaBrockway) April 3, 2017
MORE: HS won't let pro-life club start because it's 'religious,' 'controversial'
The Texas State student who recorded the video told The Tab that the angry young man was doing "what we were all wanting to do" to the graphic display.
She said "the anti-choice people … constantly come on campus," and that she "immediately began organizing a peaceful counter protest" after seeing the destruction of the pro-life signs.
It's not clear whether Created Equal itself was hosting the graphic display at Texas State. It often shares video of its run-ins with protesters, including near schools, but its social media feeds have not mentioned the Monday incident.
MORE: Pro-life group presses charges against 'madman' who assaulted them at HS
Like The College Fix on Facebook / Follow us on Twitter
IMAGE: Emma Brockway/Twitter