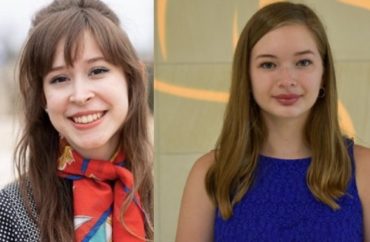 Student senate impeached and remove two conservative female students
The University of Texas at Arlington student body president and chief of staff were impeached and removed from office after being accused of making offensive comments online in private chats.
The student senate voted unanimously to impeach president Caitlyn Burge-Surles (pictured on left) and chief of staff Alyssa Spencer (pictured on right) on April 4 and 5, respectively. The two women were accused of making "racist, transphobic, islamophobic, and partisan remarks" on Discord, an online chat server, according to the impeachment articles.
The impeachment articles referenced comments that Burge-Surles and Spencer reportedly made on a Turning Point USA server, according to a document from student senator Matthew Swingler.
Screenshots of the Discord remarks showed that Burge-Surles made comments under the username "Joe Vibin." She mentioned "evil liberals" and wrote the phrase "blow up Iran" in two separate comments.
"This leads a reasonable voter to believe that President Caitlyn believes we should blow up the homes of some of our students and that she wants us to blow up where they may still have families," impeachment manager Jacqueline Avila said during the proceedings. "If this was someone talking about the United States, they would be put on a terrorist watchlist."
According to screenshots of the Discord comments compiled by Swingler, the Iran remark was apparently made during a discussion about U.S. foreign policy in the Middle East.
Burge-Surles also posted a photo of herself with Caitlyn Jenner with the caption "twins except one is a woman," in reference to Bruce Jenner's identification now as a woman.
Other screenshots show Burge-Surles calling George Floyd "a really strong man hyped up on drugs with a criminal record."
The articles of impeachment stated that Burge-Surles "neglected her duties to represent the student body fairly due to partisan and hostile attitudes towards minorities, people of color, and people of the opposing political party."
"It is unacceptable for a leader of our student body to directly hold these discriminatory values and mask them as political opinions or religious opinions," Avila said.
During impeachment proceedings, Burge-Surles said that she had a right to her opinion as a student and member of student government according to the UTA student government constitution.
The former president stated that the accusations only arose after a person that she was "very close friends" with was "finally being held accountable for their actions." The referenced individual was student body vice president Thomason Clayton, who was facing separate charges for violating Title IX due to "unprofessional, inappropriate and aggressive" behavior.
An Instagram video published by a senior Meghan Flynn on March 26 shows Thomason interrupting and reprimanding student leaders during a video conference.
"I and many other (students) from this university have suffered several traumatic encounters with this individual. This is not how UTA should be represented," the video caption says. "Thomason Clayton has made me regret being involved with this school and had me question my life on multiple occasions."
After being questioned about his Title IX violation on March 23, Clayton sent out an email that evening accusing Burge-Surles and Spencer of discriminatory behavior, according to screenshots posted in Swingler's document.
Clayton asserted in his email that the two women had directed "racist rhetoric" toward people of color, also conveying concern about their remarks toward the LGBT community and those who identify as liberals.
"I know that they are trying to get me removed from office," Clayton said at the end of his March 23 email.
During her impeachment trial, Burge-Surles claimed she was "threatened, harassed, bullied online, and publicly defamed" after a "rabid activist group on campus" took up the accusations against her following Clayton's allegations.
Burge-Surles also denied ownership of a right-leaning satire account on Twitter that was circulating among the student government, stating that it was not connected to her.
Having received revised articles of impeachment several days before the trial, Burge-Surles said she was not given a full week to prepare for the trial as outlined in the UTA student government constitution.
"You, the senators of the UTA student government, have been used. You have been used to perpetuate a mob mentality and a close mindedness at our university proud of our diversity," Burge-Surles said near the end of her remarks.
Chief of staff removed too
The impeachment trial to remove Spencer from her chief of staff position occurred the following day. Spencer faced additional charges along with the accusation of making unacceptable comments on Discord.
During her speech to the student senate at the trial, Avila stated that Spencer blamed black people for their own enslavement in reference to a Discord comment in which Spencer wrote, "Quick history lesson for those people: White people may have bought slaves, but guess who sold them?"
Avila further accused Spencer of trying to recruit senators to impeach the vice president without talking to a judicial branch member. Spencer also failed to post a mandatory organization outreach sign-up, according to Avila.
"This is not because Alyssa Spencer is a conservative. This is because she does not reflect the attitudes or behavior which our organization represents and because she is incapable of doing her job," Avila said.
Spencer responded that her trial was about "the right of conservatives to state personal opinions in their personal lives when others disagree with them."
"And the reason that this right is on trial is because attacking it is an obvious strategy for some people to avoid accountability for their misbehavior," Spencer said. "In the past week and a half, we as a student body have been able to observe what happens when the university leaves it to a couple of students to handle abuse in the workplace."
"The administration has created an environment where the burden of accountability is placed on the victim and not the abuser," Spencer said. "Because of this, the vice president, a UTA employee, was given the ability to publicly defame two highly respected female leaders at UTA and manipulate the student body into furthering his political agenda."
After providing evidence that the additional two charges against her were false, the former chief of staff responded to the accusations of racism. Spencer asserted that she "worked professionally with students of many races and ethnicities for the past two years with no problem."
"The only student to claim that I was racist against him is the student body vice president, who only leveled the charge once he realized he was close to being impeached," Spencer said.
On April 6, Clayton was tried and found not guilty for the charges against him.
Burge-Surles, Spencer and Clayton did not respond to requests for comment from The College Fix.
MORE: 'Black people are superior,' Ohio State student government member says
IMAGE: University of Texas student government
Like The College Fix on Facebook / Follow us on Twitter