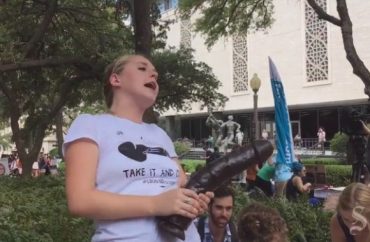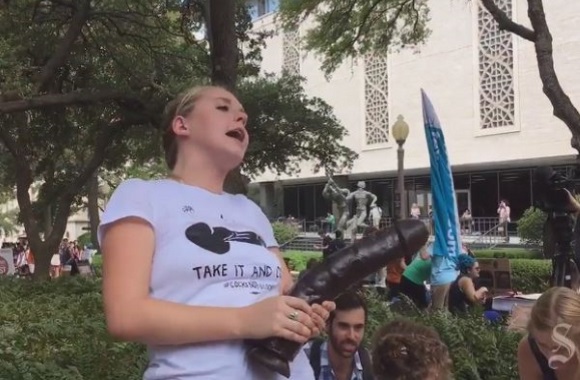 "If you're uncomfortable with my dildo you cannot imagine how uncomfortable I am with your gun."
So says Rosie Zander, a College Democrat at the University of Texas who helped lead on Wednesday a "Cocks Not Glocks" protest on the first day of school. Zander made the comments to the Austin American Statesman in explaining that their goal was to "fight absurdity with absurdity" in protesting a new state law that allows people 21 and older with concealed carry permits to bring their weapon on campus.
"Why can we have guns on campus, but we can't have dildos out in public, that's absurd," Zander said, referencing campus and state policies that forbid the public display of dildos.
With that, students displayed sex toys of all shapes, colors and sizes — hoisting them in the air or strapping them to backpacks. But UT officials have already stated they don't plan to arrest anyone for the dildo demonstration.
Meanwhile, "event organizers said they hope students will continue to carry the dildos until the law is repealed," reports the Statesman, noting organizers have accrued more than 4,000 dildos donated from sex-toy suppliers.
Protesters are balls deep in the heart of texas #cocksnotglocks pic.twitter.com/YVkjFtGT1M

— ingrid (@_ingrrrid) August 24, 2016
Wednesday's protest marked the second time the "Cocks Not Glocks" demonstration has occurred at UT. The first one took place last October.
Underscoring all this, just three days ago a federal judge denied a request from three UT professors for a preliminary injunction to allow them to ban firearms in their classrooms, the Statesman reports: "U.S. District Judge Lee Yeakel of Austin said he found no precedent for the professors' argument that they have a right of academic freedom under the First Amendment so broad that it overrides decisions of the Legislature and the university that employs them."
Like The College Fix on Facebook / Follow us on Twitter
IMAGE: screenshot via Austin American Statesman