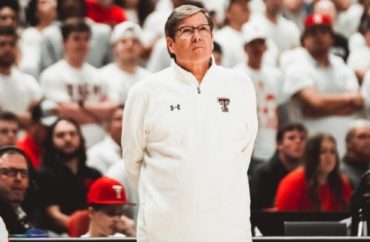 He referenced a Bible verse about servants and masters
Texas Tech University forced out its head basketball coach after he used a Bible verse about servants.
"I said that in the Bible that Jesus talks about how we all have bosses, and we all are servants," Coach Mark Adams told Stadium. "I was quoting the Bible about that."
The university's own statement said Adams "was encouraging the student-athlete to be more receptive to coaching and referenced Bible verses about workers, teachers, parents, and slaves serving their masters."
The suspension and resulting coverage was enough to force Adams out of his position.
He stated in his resignation message Wednesday:
My lifelong goal was to help and be a positive influence on my players, and to be a part of the Texas Tech men's basketball team. However, both the University and I believe this incident has become a distraction for the Texas Tech men's basketball team and the University, which I care about so deeply.
Adams was also accused of spitting on a player in a separate incident, but he denies it was intentional.
The former coach said that the university falsely claimed he had apologized. "One of my coaches said it bothered the player," Adams told Stadium. "I explained to them. I didn't apologize."
While it is not clear which specific passage Adams cited, Bible verses sometimes use "slave" or "servant."
For example, the New International Version of the Bible renders Matthew 20:26-28 as, "whoever wants to become great among you must be your servant, and whoever wants to be first must be your slave— just as the Son of Man did not come to be served, but to serve, and to give his life as a ransom for many."
MORE: Another claim of racist slurs from fans falls apart
IMAGE: TexasTech.com
Like The College Fix on Facebook / Follow us on Twitter