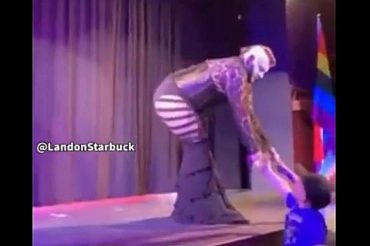 UPDATED
Tennessee Tech University is under fire after a campus theater group organized an "all ages" drag show event which mocked Christianity.
According to the Daily Mail, the Backdoor Playhouse-sponsored performance featured a drag queen "dressed as a Catholic monk" who "stripp[ed] down to a corset and stockings" — all the while children "rushed" to the stagefront to give him money.
Landon Starbuck posted a segment of the show on Twitter and said "Every parent who pays to send their kids to Tennessee Tech deserves to know that this is what they're allowing on campus."
The video shows the drag queen coming on stage to Hozier's 'Take Me to Church" whereupon several kids run up to hand him cash. After the queen "drops the money and does the sign of the cross" he then begins to take off his clothes to audience cheers (and more kids running up to the stage).
Tennessee Tech University hosted a drag show that had little kids handing cash to the drag queen who was performing a dance clearly meant to mock Christians. Every parent who pays to send their kids to @tennesseetech deserves to know that this is what they're allowing on campus. pic.twitter.com/Q4I9uR2tcT

— Landon Starbuck (@LandonStarbuck) September 7, 2022
MORE: New York put out over $200K for drag shows in NYC public schools
Upon viewing the video, Tennessee Tech President Phil Oldham put out a statement saying he was "disturbed and dismayed" by what he saw.
"I also am offended by disparaging mockery toward any religious group," Oldham said. "To be clear, this was not a university sponsored event. No university funds were used. Two registered student groups facilitated the scheduling and promotion of the event. Although registered student organizations have the ability to reserve space on campus, the programming should not include obscene, lewd or explicit activities."
Oldham went on to note an investigation into the drag show had been initiated and that all events sponsored by Backdoor Playhouse were henceforth cancelled pending further review.
The theater group responded to Oldham's message on Facebook by saying "Pride isn't a thing we do one month out of the year. It's part of our core principles […] It's our culture and our identity. It's us! To all our LBGTQ+ friends: We love you! We see you! We stand with you!"
According to Starbuck, Backdoor Playhouse had planned another "all ages" drag show for September 24.
UPDATE: A previous version of this article at times mentioned Texas Tech (including the headline) instead of Tennessee Tech. The article has been amended and we regret the error.
MORE: Criticizing a campus drag show shouldn't result in a Title IX meeting
IMAGE: Landon Starbuck / Twitter screencap
Like The College Fix on Facebook / Follow us on Twitter