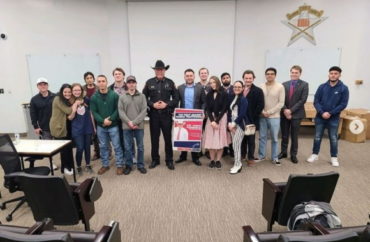 'Implementing such security fees is what's known as a heckler's veto,' attorney says
University of Texas at Arlington has rescinded a $28,600 security fee charge to the conservative student group Turning Point USA after the public institution received a legal warning letter from Alliance Defending Freedom.
At issue were two events hosted by TPUSA during the school year: one with a former Texas state House Candidate in November and another discussing how to combat human trafficking in March.
The university subsequently sent the student group two bills totaling $28,600 for security for the two events.
Carlos Turcios, vice president of TPUSA at University of Texas at Arlington, said he was shocked by the bills.
"UTA should be encouraging free speech, not putting burdensome restrictions on it," he told The College Fix via email. "[F]ree speech should be just that – free."
On April 25, Alliance Defending Freedom's Center for Academic Freedom sent a letter to the University of Texas at Arlington arguing that "charging over $28,000 for two small events is prohibitively expensive speech–not free speech."
The group threatened legal action against the university if the fees were not rescinded.
"..In sum, the security costs assessed against TPUSA violate well-established First Amendment principles," the letter stated. "In order to avoid immediate legal action, we request the University rescind all security bills issued to TPUSA and revise its policies to prohibit charging security fees based on the heckler's veto in the future."
Alliance Defending Freedom Senior Counsel Caleb Dalton, in an email to The College Fix, called the fees "suppression" of students' free speech rights.
"Implementing such security fees is what's known as a 'heckler's veto,' an action which unconstitutionally allows those who oppose certain speech to censor it simply by protesting or threatening to protest," Dalton told The Fix via email.
On May 10, Alliance Defending Freedom announced the university had rescinded the fees.
University of Texas at Arlington's media relations department did not respond to The College Fix to speak on the decision and why it was made.
In a news release announcing the decision, Dalton stated "We commend UTA officials for quickly rescinding these unlawful charges, and for securing these events in the first place, but we urge them to take the next right step, which is to amend their policies to protect every student's freedom of speech so that this never happens again."
Turning Point USA is a student activist group dedicated to educating "students about the importance of fiscal responsibility, free markets, and limited government."
Turcios has been involved with the chapter for three years, he told The Fix via email. He said this latest controversy is not the first time that the club has experienced hostility.
"Some of our members have been smeared online and harassed on campus by various groups," he said.
The two events included a November 2022 visit by Jeff Younger, a former Texas State House candidate, which drew about 50 people, according to ADF's original legal threat letter. The other event drew about 20 attendees, according to the letter.
The College Fix reached UTA Police Captain Mike McCord, but he declined to comment.
Despite the attacks on free speech, Turcios said he will not be intimidated by any silencing attempts and is confident their chapter will continue to grow.
"Censors who try to shut down free speech only win if you surrender," he told The Fix.
MORE: Two universities scale back bias response systems after legal threats
IMAGES: Instagram screenshot
Like The College Fix on Facebook / Follow us on Twitter