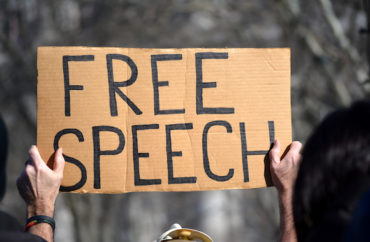 Southern Utah University and the University of Maine recently revised their bias reporting systems on their websites as a direct response to letters issued by the Southeastern Legal Foundation, a nonprofit that defends liberty.
At both institutions, the legal foundation accused their bias reporting systems of being too vague and argued they facilitated the possibility of overly broad complaints that could infringe on students' free speech rights, calling the systems "plainly unconstitutional."
Southern Utah University had maintained a webpage titled "How do I report an issue" with various prompts, one of which used to include a section called "Bias Incidents," according to a cached version.
It previously stated bias "or hate incidents consist of speech, conduct, or some other form of expression or action that is motivated wholly or in part by prejudice or bias." It directed students to report concerns through several methods, including anonymously, or to public safety, human resources or the dean of students.
The foundation warned Southern Utah University in its initial Oct. 3 letter that the dean of students had broad authority to investigate and punish students accused of offending their peers.
"As SLF explained, such policies are unconstitutional because they force students to guess whether something they say will offend their classmates," the foundation stated. "Instead of saying something that could be considered offensive, students often self-censor. Because the anti-bias code is a form of censorship, SLF demanded that SUU remove the policy from its website."
Today, that section is no longer included on the webpage.
"Although colleges are meant to be the marketplace of ideas, bias reporting systems stifle viewpoint diversity," Cece O'Leary, an attorney and director of SLF's 1A project, told The College Fix in an email. "Fortunately, SUU took corrective action to protect such diversity on campus in response to our demand letter."
Southern Utah University did not respond to requests from The College Fix for comment.
The University of Maine website also used to contain a similar bias reporting system.
The university's website had included a webpage titled "UMaine Bias Response Team" that stated the university "considers acts of hate and bias unacceptable and antithetical to its commitment to an inclusive and respectful community," according to SLF's letter.
UMaine's website now contains revamped guidelines that better protect student speech.
In a response letter to the legal foundation, UMaine agreed to "review the Bias Response Team and corollary sites to assure that it is clear that speech which is protected will not be subject to punishment" and "include helpful links to definitions and explanations to further this message."
The University of Maine has since updated its website "to clarify that it has no authority to punish students for exercising their freedom of speech. It further clarifies that students cannot even be investigated or questioned for a bias incident when the incident involves protected speech," the foundation stated in a Dec. 13 news release.
What's more, the university now provides a link to its free speech policy to ensure students "understand the full extent of their rights when accused of so-called bias," it stated.
The University of Maine declined comment to The College Fix on the subject.
Kenda Scheele, associate vice president for Student Life at UMaine, said in the school's response letter to the foundation that "One thing on which the University of Maine agrees with the Southeastern Legal Foundation is that open discourse is critical to both a functioning democracy and a well-rounded college education and experience."
The legal group praised the university's response to its complaint.
"This is not just a win for students on the University of Maine's campus; it is a win for students everywhere because yet another college has been forced to publicly walk back its empty threats through a bias reporting system," Kimberly Hermann, SLF's general counsel, said in a news release. "We won't rest until every college fulfills its duty to protect and uphold free speech."
MORE: The College Fix investigates: bias response teams
IMAGE: Shutterstock
Like The College Fix on Facebook / Follow us on Twitter