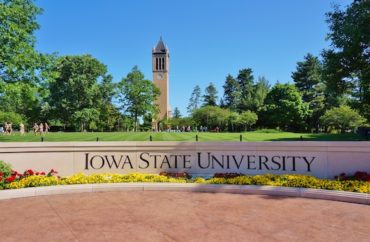 The Young Americans for Freedom chapter at Iowa State University was recently granted funding from the student government after the public university's attorney advised the student politicians they cannot legally withhold financial support under a relatively new free speech law. 
The conservative student group requested and received $500 from the student government association for conference registration fees late last month.
Such requests don't always go so smoothly.
"It is almost always an uphill battle for Young Americans for Freedom chapters to receive funding from student governments," YAF spokeswoman Kara Zupkus said in an interview with The College Fix.
"These bodies, composed of power-hungry leftist students, often cannot separate their own ideological biases from decision-making––ensuring conservatives get the short end of the stick when it comes to being granted funding," she said via email.
In fact, granting the funding at Iowa State came with some debate. But the student government's Chief of Staff and President-elect Jacob Ludwig told his peers on the dais that he had been advised by the university's attorney that they could not withhold the funding despite the desire among some senators to do so.
"Ludwig said in addition to a potential First Amendment violation, [the] student government may also lose funding due to a recent Iowa law which prohibits university student governments from withholding funds based on an organization's political leaning," the Iowa State Daily reports.
In May 2021, Governor Kim Reynolds signed into law a bill that enshrined sweeping free speech protections within the state's K-12 system and public colleges and universities.
Among its provisions is a section that specifically spelled out protections for how student governments dole out funding:
Each institution of higher education governed by the state board of regents shall make a student government organization's access to and authority over any moneys disbursed to the student government organization by the institution contingent upon the student government organization's compliance with the First Amendment to the Constitution of the United States and the provisions of this chapter.

If, after exhaustion of all administrative appeals, it is determined that a student government organization knowingly and intentionally violated the First Amendment rights of a member of the campus community or that an action or decision of a student government organization is in violation of this section, the institution shall suspend the student government organization's authority to manage and disburse student fees for a period of one year. During this period of suspension, such student fees shall be managed and disbursed by the institution.
Ludwig reportedly told the student government to vote yes, that not approving YAF's request would be a First Amendment violation, and that they could address the issue of funding political student organizations at a later meeting, the Iowa State Daily reported.
The bill passed 17-4, but not without protest.
"How long are we going to continue funding an organization that's disrespectful and demeaning toward a huge population of Iowa State University's campus," one student senator said prior to the vote, the Daily reported.
According to Zupkus, the YAF chapter at Iowa State University is going strong and plans to host Ben Shapiro soon. The title of the April 27 talk is "To Save America, Wokeness Must Be Destroyed."
"The YAF chapter at Iowa State is very strong, and will be hosting Ben Shapiro in a sold-out event at the end of the month," Zupkus said. "Their strong leadership will ensure conservatism has a place on ISU's campus for decades to come."
MORE: Free speech advocacy group settles lawsuit with Iowa State over its ban on political speech
IMAGE: EQ Roy / Shutterstock
Like The College Fix on Facebook / Follow us on Twitter