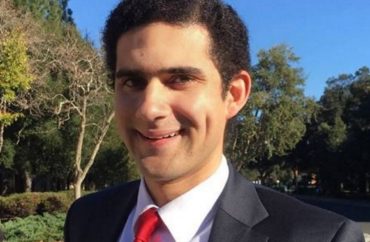 John David Rice-Cameron can trace his conservative roots to his middle school years. Back then, his father would often have talk radio on during rides home from school or tennis practice.
"Sometimes my dad would listen to Rush Limbaugh and he would kind of argue with him," recalls Rice-Cameron, 20, a sophomore at Stanford University. "I just found myself agreeing with basically everything Rush Limbaugh was saying."
Rice-Cameron's parents are Democrats. His mother, Susan Rice, served in the Obama administration, first as U.N. ambassador, then as National Security Advisor. But despite his parents' political leanings, "they believe extensively in debate and engaging the other side and exposing people to different viewpoints," he said.
Rice-Cameron started listening to talk radio on his own. That's when he discovered Mark Levin, saying the firebrand pundit became his "ultimate political hero."
"He'd talk about John Locke, and so I'd go and read some John Locke. He'd talk about John Smith, so I'd go and read John Smith. He'd talk about the Federalist Papers, and so I read those," Rice-Cameron said. "I discovered the intellectual roots of liberty."
Fast-forward to today, Rice-Cameron — recently described by one campus publication as "Stanford's most outspoken political provocateur" — is taking his passion for liberty and advancing it at Stanford University, his mother's alma mater, as president of the College Republicans.
"If we are going to promote the liberty movement, if the liberty movement is going to succeed, we need to do something about these college campuses," he told The College Fix in a telephone interview. "We need to ensure the liberty movement is heard."
Indeed, the Stanford College Republicans so-called "grand finale event" of the school year almost didn't happen. The group fought red tape to bring Turning Point USA's Charlie Kirk and Candace Owens to campus tonight for a "Make Stanford Great Again" event.
Owens' don't-call-me-a-victim message has been praised by both President Donald Trump and megastar Kanye West in recent tweets, but Turning Point USA has been accused of less-than-highbrow tactics in its efforts to advance conservative and free market messages to college kids. Rice-Cameron said he isn't fazed by that aggressive approach.
"It's combative conservatism," said Rice-Cameron, who was recently appointed activism director for the California College Republicans. "You don't provoke for the sake of provoking because that is not principled. But you don't let the fact that someone might get triggered prevent you from saying or doing something important. We must break this leftist monopoly."
To that end, the Stanford College Republicans have had a busy year. In the fall, the group hosted terrorism expert Robert Spencer for a talk on radical Islam. Prior to the event, leftist students blocked efforts to promote it. The speech itself prompted a large protest and conflicting reports of physical altercations ensued.
Earlier this year, the College Republicans pushed for a Stanford professor to either resign or cut ties with the Campus Antifascist Network he co-founded. Then the group used public pressure to get the administration to agree to allow it to use an American flag on its T-shirts.
Rice-Cameron had a hand in all of it. Three months ago, he became the group's president. His activism has been inspired in part by the Tea Party movement, calling its platform "true constitutional conservatism."
And what does his mother, one of President Obama's chief lieutenants, think of her son's beliefs and actions?
"She and I disagree on a number of things and we agree a lot," he said. "She has always set an example of principle, entering public service for the right reasons — because you care, because you want to serve your country."
"Those are the kinds of leaders I see in people like Ted Cruz, Mike Lee, Mark Meadows, Jim Jordan, the House Freedom Caucus," he added. "I'll even say that about President Obama. … He had some pretty destructive ideas … most of his policies were wrongheaded, but I think he is an honorable man who entered politics for the right reasons despite having ideas and principles I have a hard time swallowing."
Rice-Cameron had been a Cruz supporter during the primary, and even called The Mark Levin Show to talk to his political hero about it. It was one of two times Rice-Cameron spoke on-air to "The Great One." Another time they spoke about an op-ed Rice-Cameron wrote for the Stanford Review headlined "Students for Justice in Palestine Linked to Terrorist Affiliate." Levin shared the column on social media, and it made Rice-Cameron's day. The radio show host had no idea he was Rice's son.
More recently, his identity is starting to be discussed publicly. A recent interview on PragerU delved into the issue. Rice-Cameron was also profiled recently by Stanford Politics Magazine, which noted his father, Ian Cameron, also a Stanford alumnus, is a former executive producer for ABC News. Susan Rice told the magazine her political differences with her son are not an issue.
"I love him very much and I'm very proud of him," she said. "And even though we may differ on substantive issues — many substantive issues, not all — that doesn't get in the way of my ability to support and encourage him and love him the way you would hope any parent would."
"Jake, like me, is an African-American and of mixed parentage," Rice also said. "And he understands, as I do, the importance of the equality of rights for all. That's an area where we share a strong commitment."
The article also noted that the fact that Susan Rice is his mother is well known on campus but "not the root of his notoriety."
"Rather, it's the particular brand of politics Rice-Cameron has helped bring to Stanford," the report notes, describing it as "Trumpian."
Rice-Cameron told The College Fix he supports Trump. He said Republicans control Congress, the executive branch, most state legislatures; there's been more constitutional judges appointed, and conservative media is stronger than ever. Even Hollywood is starting to turn — look at West's endorsement of Owens, he said.
"So college campuses are basically the last bastion of leftist monopolization," he said. "You have a campus Left who believe they have the right to dictate who comes on campus, what gets to be said, what gets taught, they control almost all student governments, they have an almost complete monopolization on the campus press."
"It's rammed down your throat since start of freshman year," he said of leftism. "We really are fighting for a marketplace of ideas, we are fighting for our right to have our ideas be heard."
MORE: Stanford student paper implies College Republicans are racist
Editor's note: This article has been amended.
IMAGE: Facebook screenshot
Like The College Fix on Facebook / Follow us on Twitter