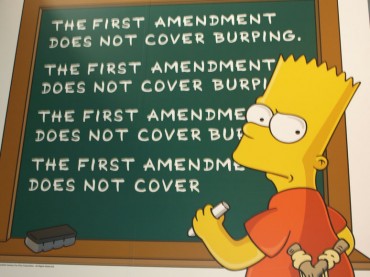 Some depressing results today from the Newseum Institute's 2014 State of the First Amendment survey, which finds disturbing numbers of Americans think the First Amendment is too generous. That is, when they know what it protects at all.
The Poynter Institute ticks off the results:
Just 1 percent of U.S. adults know that the First Amendment guarantees the right to petition the government …

… about 38 percent of adults surveyed think the First Amendment goes too far in protecting freedom of expression. …

The survey also revealed that 14 percent of Americans don't know that the First Amendment provides for freedom of the press, and 29 percent couldn't name any of the rights it guarantees, down from 36 percent last year. [emphasis added]
That's right – last year, even more people didn't know what the First Amendment does. America is also at a record high for how many people know the First Amendment "guarantees the right to freedom of speech," at 68 percent.
Too bad the other 32 percent appear to be college administrators.
Like The College Fix on Facebook / Follow us on Twitter
IMAGE: William F. Yurasko/Flickr