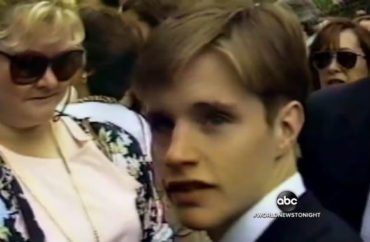 Interred at the National Cathedral based on a likely falsehood
There are a few brave journalists on the left willing to challenge the rigid orthodoxy of their peers with actual evidence and reasoning.
Katie Herzog of Seattle's alternative newspaper The Stranger, which gave America the sex columnist Dan Savage, has shown this willingness by writing nuanced and open-minded features on Jordan Peterson, the polarizing University of Toronto psychologist, and Evergreen State College nuttery.
This time, though, she's really kicked the hornet's nest: the saintly status of the namesake of America's federal hate-crime statute, and the entire narrative around his murder.
The openly gay Herzog reminds America that much evidence undermines the mainstream view that University of Wyoming college student Matthew Shepard was murdered in 1998 because of his sexual orientation.
The occasion is Shepard's interment in the Washington National Cathedral last week, which led to many media reports that recounted this view uncritically. ABC News, for example, didn't even mention there's a book by a gay investigative journalist that thoroughly undermines this narrative.
Herzog can't quite bring herself to condemn this hostility toward the uncomfortable truth, noting the homophobic explanation for Shepard's death "still helped push forward the fight for gay rights."
But she wants us to know the evidence that Shepard's death was not related to homophobia:
Twenty years after Shepard's death, I was completely unaware that there was any question about why Shepherd was killed until just a few weeks ago, when I came across a 2014 article in the Guardian [that hotbed of social conservatism!] about The Book of Matt: Hidden Truths about the Murder of Matthew Shepard, by investigative journalist Stephen Jimenez. Jimenez, who himself is gay, spent 13 years investigating Shepard's death, and his conclusion came as the kind of shock that makes you question if anything you believe is really true: Matthew Shepard was not killed because he was gay; he was killed over a large amount of crystal meth.
This was one of the reasons Jimenez was determined to confront his own community: to force it to acknowledge "how crystal meth ravaged the queer community (and Matt's life)."
The journalist found that not only was Shepard a meth addict and dealer, but he had previous sexual encounters with one of his killers, Aaron McKinney, who was already known among police to be gay (having been previously caught "in a sexual act with another man").
Both Shepard and McKinney were "being pimped" when Shepard was killed. McKinney was arrested after beating another man with the same gun he'd used to beat Shepard earlier that night.
McKinney and Russell Henderson, the other killer, likely believed that Shepard had access to a $10,000 meth shipment when they brutally beat him. The officer who arrested them for the second beating told Jimenez he believes the duo was "trying to find Matthew's house so they could steal his drugs."
Even Shepard's "longtime friend and lover," Ted Henson, believes that Jimenez's reporting is "nothing more than the truth."
The media cathecism of Shepard's death also has to ignore the community in which it took place, Herzog writes:
[Laramie] was a college town, home to the University of Wyoming. And like most college towns, it was, and is, quite liberal and even gay-friendly. That truth got lost as the story spread, and Laramie became a parody of white trash ignorance and bigotry.
She shares how shocked she was upon learning that Pulse nightclub shooter Omar Mateen was not motivated by homophobia and didn't even know he'd entered a gay nightclub:
Those facts, of course, don't make these deaths any less tragic, but understanding motivation does matter if we want to prevent these kinds of tragedies from happening in the future. It's enough to make you wonder, what else are we just assuming to be true? And does this willingness to blindly believe really serve us?
It serves activists and their media allies, of course. It doesn't really serve "us."
IMAGE: ABC News/YouTube
Like The College Fix on Facebook / Follow us on Twitter